Save The City Recording Artist Byron "Mr. Talkbox" Chambers Hosted, And Performed, At Last Weekend's Alive Festival, Entertaining Crowds Of Up To 15,000 People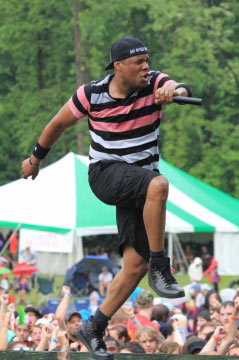 NEWS SOURCE: Merge PR
June 28, 2011
Nashville, Tenn – June 29, 2011 – This past weekend, Save The City recording artist Byron "Mr. Talkbox" Chambers hosted one of the country's most popular annual events, The Alive Festival, held June 22nd through June 25th in Mineral City, Ohio. Chambers not only hosted but entertained crowds totaling up to 15,000 people for the long weekend gathering, as he also took the stage on Friday evening to perform his own set and again on Saturday night to perform on Toby Mac's set. Other artists who appeared during the festival were Third Day, Skillet, Newsboys, Switchfoot, Tenth Avenue North, Family Force Five, Chris August, and more.
"Hosting the Alive Festival was an amazing experience for me, both as a person and as an artist," exclaims Byron "Mr. Talkbox" Chambers. "I met some incredible people while dropping the "Joy Bomb" on Ohio! Bill and Kathy Graening are some of the most genuinely loving people I know, and I look forward to working with them in the future."
This year's four-day experience, directed under the leadership of the Graening's, completed its 24th year in a row of music, worship, teaching, recreation, and fellowship. Director Bill Graening shares, "Byron is multi- talented, passionate, engaging and a gifted communicator. He helped make Alive 11 a huge success and he will be invited back!"
With numerous upcoming tour stops this summer and fall, Chambers will next appear at Creation Northeast July 2nd in Shirleysburg, PA and at Lifest 2011, to be held July 8th in Oshkosh, Wisc. Be sure to visit his website below for the most updated tour schedule. While on tour, Chambers is performing his current radio single, "Everything Works Together," which recently hit No. 34 on Billboard's Christian chart.
And also be sure to visit Byron "Mr. Talkbox" Chambers at his other social media sites:

About Byron "Mr. Talkbox" Chambers:
Chambers is a recording artist and songwriter signed to Save The City Records (Provident Distribution) and is managed by Artist Garden Entertainment. In his career, he has won a GMA Dove Award for his songwriting and production on Group 1 Crew's single "Moving." Along with his successful solo career, Chambers is a member of the Diverse City Band and has also co-written and performed on TobyMac's "Diverse City."
Also in his career he has performed and toured with The Backstreet Boys, *NSYNC, Britney Spears, Fred Hammond, CeCe Winans, Gloria Estefan, Kurt Carr, Bishop T.D. Jakes, to name a few. He has also appeared on shows such as Saturday Night Live, The View, The Radio City Music Awards, Nickelodeon's Teen Choice Awards, Walt Disney's Very Merry Christmas Parade (ABC), The N'SYNC "Ain't No Stoppin' Us Now" Pay- per-view special, MTV's TRL, Good Morning America, E True Hollywood Stories (N'SYNC), the Loreal Summer Music Mania, and Nickelodeon's The Big Help.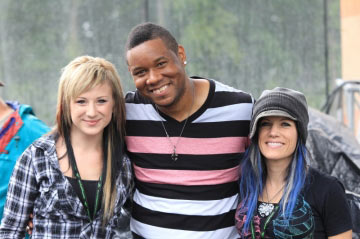 Chambers takes a break from Alive to hang with his friends from Skillet. Pictured here is two members of Skillet, Jen Ledger (left) and Korey Cooper (on the right).