Multi-Platinum Selling Artist Steven Curtis Chapman Launches re:creation at NASA
Latest Album Sparks Praise from USA Today, Beliefnet, Rhapsody & More

World Premiere of "Do Everything" on Gospel Music Channel This Week

Chart-Topping Single Lands in Top 5 at
Christian AC Radio

In-Depth Interviews Seen in
Billboard, AOL The Boot & CCM Magazine
NEWS SOURCE: The M Collective
August 10, 2011
(Nashville, Tenn) Aug. 10, 2011— Yesterday morning, multi-platinum selling artist and five-time GRAMMY award winner Steven Curtis Chapman celebrated the launch of his latest release re:creation with his friends at NASA. As a special treat, Chapman was able to speak directly with the two American astronauts currently stationed on the space station about the album. With a solid track record of consistently delivering remarkably transparent and musically engaging albums throughout his prolific 20+ year career, Chapman's 17th album, available nationwide, is no different as it receives praise from critics across the board including New Release Tuesday, USA Today, Beliefnet and more: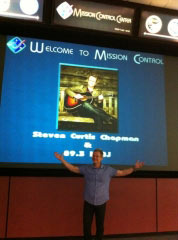 "Overall re:creation is at its most powerful in its most personal new material. Those are the most poignant and inspirational, and he blends them well with an organic version of his signature upbeat style. It's also encouraging to hear Chapman having fun again while welcoming listeners into renewed hope. re:creation recognizes there are more tears to come, but also shows that Chapman is able to laugh again." -ChristianityToday.com
"Far from a remix, re:creation offers us Steven Curtis Chapman's timeless songs for a generation that needs to hear them. New, stripped-down instrumentations, new instruments and new voicing not only breathe new life into classic songs like 'Dive' and 'Speechless,' but they are clear evidence that this songwriter has rediscovered new themes in his own life. This is like picking up a conversation with an old friend, right where you left it." --NewReleaseTuesday.com
"re:creation is Steven Curtis Chapman at his best: creative, uplifting, and deeply emotional. The re-invented songs showcase his continuing growth as an artist, and are only upstaged by the spiritual depth of the new material."-Beliefnet.com
"Chapman, who has written thoughtfully about his faith since the late 80's, revisits early hits such as 'The Great Adventure' and 'For the Sake of the Call.' The older material deserves a listen."- USA Today
"Whether newcomers to the SCC canon or longtime followers, there is something for everyone on Steven Curtis Chapman's latest, re:creation. Whether old or new, however, the common thread among the tracks is Chapman's ability to change the heart's perspective time and time again."- CCM Magazine
"Nearly 25 years into his career, SCC is finding that the ups and downs of life have given new meaning to old lyrics. The songs (and the singer) seem more fragile but the message is just as sure. " -Rhapsody.com
In addition to the critics' rave reviews, the world premiere of Chapman's current single from the new album, "Do Everything," can be seen this week on the Gospel Music Channel's Uplifting Pop starting at 9am/8c all week long. The video also premiered on KLOVE.com and fans can watch it here . "Do Everything" is continuing to climb the charts as well as it is currently No. 2 at AC Indicator, No. 5 at National Christian Audience and No. 6 at AC Monitored. Yesterday, Chapman stopped by the morning show at KSBJ in Houston, where he shared the story behind the song and album.
It has been over three years since the Chapmans lost their daughter Maria, but the family finally feels the sun is starting to rise as they are continuing their journey of healing and restoration. Chapman opens up about this new season with Billboard Magazine, on stands next week, AOL's The Boot and on the cover of the latest issue of CCM Magazine .
Chapman's support of the album continues with the launch of a 23-city "Songs & Stories Tour" this fall starting Sept. 29. For more information on Steven Curtis Chapman, re:creation and the tour please visit www.stevencurtischapman.com.
###
For more info on Steven Curtis Chapman, visit the JFH Artists Database.