GINNY OWENS KICKS OFF FALL "GET IN I'M DRIVING" HOUSE SHOW TOUR
Tour To Provide Evening of Stripped Down Music In Intimate Setting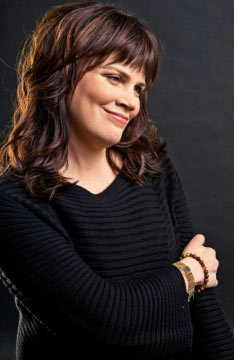 NEWS SOURCE: Savvy Media
September 23, 2011
(NASHVILLE, Tenn.) Sept. 23, 2011--Dove and ASCAP Award-winning singer/songwriter Ginny Owens sets out on her fall "Get In I'm Driving" house show tour. The tour will showcase an intimate evening of music from her Sept. 13 SoulStride Records release, Get In I'm Driving, as well as classic Ginny Owens hits, in fans' homes across the country.
Earlier this summer, fans were invited to contact Owens about hosting their own tour stop. The response has been enthusiastic with initial shows in Atlanta and Indianapolis last week. Attendance is limited to 75 per event, ensuring guests a more personal concert experience.
Owens comments, "I must admit that I love playing small venues most of all. To be able to interact with friends and fans in an intimate, living-room-like setting where I can share the new songs just as I wrote them--and the stories just as I lived them—is such a sweet and special opportunity for me."
To attend a home show, fans can visit www.ginnyowens.com, www.facebook.com/ginnyowensmusic or www.twitter.com/ginnyowens for an updated tour schedule. To sponsor a home show, contact Owens at allthingsginny @ gmail.com (**spaces added to prevent spam -- JFH**).
The tour is in support of Owens' fifth studio album, Get In I'm Driving, released Sept. 13. Produced by Owens, David Das (Rebecca St. James, Katharine McPhee, BarlowGirl) and Monroe Jones (Third Day, Mark Schultz, Holly Williams), Get In I'm Driving is a departure from Owens traditional sound. This CD is smoky and smooth, jazz-tinged R&B shot through with pop music sensibilities. Songs include the thudding, breathy opening strains of the title cut, to lilting, pop-inflected "Mystery of Grace," and playful, piano-driven "Before You Fly." Owens injects fetching melodies with thought-provoking lyrics to remind listeners that life is a journey; one that usually involves a lot of falling down and getting back up again.
Purchase the record now at iTunes or wherever Christian music is sold. For more information, visit: www.ginnyowens.com.
About Ginny Owens
A three-time Dove Award winner, including the Gospel Music Association's 2000 New Artist of the Year recipient, and multiple ASCAP Award winner, Ginny Owens has sold nearly one million albums. A top performer on the Christian radio charts with hits like "If You Want Me To," "Free" and "I Wanna Be Moved," among others, Owens' music has impacted mainstream audiences at Lilith Fair, the Sundance Film Festival and the White House. Her music has received widespread film and television placement, with songs on the popular WB series "Roswell" and "Felicity," and she has been featured on national television, including MSNBC and CNN, for her contribution to help rebuild New Orleans following Hurricane Katrina.
In 2005, Owens launched The Fingerprint Initiative, a hands-on, non-profit organization designed to "bring hope to the world, one project and one touch at a time." The organization has partnered with and raised money for groups such as Compassion International, International Justice Mission and Habitat for Humanity.
Learn more about Ginny Owens at: www.ginnyowens.com or www.fingerprintinitiative.com.
# # #
For more info on Ginny Owens, visit the JFH Artists Database.