RAZOR & TIE CELEBRATES DAVE BARNES' FIRST #1 SINGLE "GOD GAVE ME YOU" PERFORMED BY COUNTRY SUPERSTAR BLAKE SHELTON
Barnes to Release New Studio Album In 2012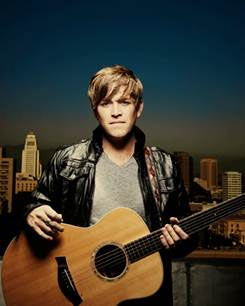 NEWS SOURCE: Razor & Tie
October 19, 2011
(Nashville, TN) – Nashville-based Dave Barnes celebrates a career first with his song "God Gave Me You" performed by country singer Blake Shelton as it jumps to the #1 spot on the Billboard Country Singles chart. Barnes wrote the song for his last studio album, What We Want, What We Get (4.6.2010). "God Gave Me You" is on Blake Shelton's eighth studio album, Red River Blue, and is his fastest rising single to date. Barnes is administered by Razor & Tie Music Publishing.
Dave Barnes will release his fourth studio album for the Razor & Tie label this coming Spring. He recently wrapped recording the album with producer John Fields (Jimmy Eat World, Lifehouse, Goo Goo Dolls, Switchfoot, Andrew W.K., Jonas Brothers, Pink).
Barnes' version of "God Gave Me You" had a great run at Adult Contemporary radio in 2010, peaking at #21 on AC and #72 at Hot AC. The song also peaked at #3 at Christian CHR and #8 on Christian AC radio. Barnes' and Shelton's versions of "God Gave Me You" have sold close to 600,000 individual tracks combined. Dave Barnes' "God Gave Me You" video here: http://bit.ly/cFA8Hb
Blake Shelton selected the song after hearing it one day on the radio, he tells AOL's The Boot: "It's no secret, Miranda and I have had our ups and downs over the years and this was definitely at a low point at our relationship. I was flipping through stations and landed on a contemporary Christian station, and that song came on and I almost had to pull the truck over. I felt like I was hearing that song at that moment for a reason."
Dave told AOL's The Boot: "When I heard that it was making [Blake's] record, I was so excited! Especially in how it got there: it wasn't pitched, it was found. That's the best because the artist has such a different attachment that way. The fact that he heard it on the radio and wanted to record it because it meant something to him and Miranda blows my mind. It's still hard to believe it's on the radio. Writing so much on Music Row and knowing the process of how songs get cut and picked for radio, it's amazing to me that "God Gave Me You" made it through the whole process."
A songwriter first, Barnes is no stranger to having his music plucked by country singers as Billy Currington re-recorded Barnes' radio hit "Until You" for Currington's 2010 release. Barnes has been recognized by the industry as a rising songwriter. Billboard Magazine touted "Many of the best pop songwriters come out of Nashville, and Dave Barnes is one such singer/scribe now building momentum."
Barnes adds, "I have been writing a lot on Music Row in the last couple of years. I'm trying to get more songs recorded by country artists, both songs from my previous albums and songs that I'm writing with other Nashville writers. It's a really fun challenge and new discipline."
Dave Barnes last album What We Want, What We Get debuted at #59 on the Billboard top 200 album chart in 2010 and #15 on the digital albums chart. Barnes has sold over 150,000 albums to date and over 510,000 individual song downloads. He is currently on tour and will tour in 2012 as well. Barnes has previously toured with notable acts including John Mayer, Taylor Swift, Lady Antebellum, Bonnie Raitt, and One Republic.
Dave Barnes is signed to leading independent label Razor & Tie and is administered by Razor & Tie Music Publishing. The New York City-based company is one of the fastest growing independent entertainment companies in the United States, and has garnered both Platinum sales and Grammy awards in its 20-year history. Razor & Tie's diverse and acclaimed label roster includes such artists as Vanessa Carlton, Foreigner, Dave Stewart, Richard Ashcroft, Nicole Atkins, Angelique Kidjo, Saves The Day, Kevin Devine, All That Remains, P.O.D., Dar Williams, The Summer Set, to name a few. The company provides distribution and marketing services for artists such as Joan Baez, Suzanne Vega, Corey Smith and The Cowboy Junkies. Razor & Tie Music Publishing was founded in 2007 and has distinguished itself with a focused, proactive approach to multi-media song placement, royalty administration, and career development. In a few short years it has developed a small focused roster of talented and accomplished writers, artists and bands, as well as a lucrative catalog of songs. The company is led by a seasoned and energetic executive team, and supported by an administration, finance and business affairs staff with representatives in New York, Los Angeles and Nashville. The company is self-administered in North America and has aligned with a strong team of sub-publishers throughout the rest of the world.
DAVE BARNES TOUR DATES
October 20 – Clinton, NY – Hamilton College
October 27 – Sacramento, CA – Capitol Christian Center *
October 28 – Covina, CA – First Church of Nazarene *
October 29 – Lake Forest, CA – Saddleback Community Church *
November 3 – Clinton, MS – Mississippi College
November 5 – Evanston, IL – Space
November 10 – Austin, TX – Momo's
November 11 – Waco, TX – Common Grounds
November 12 – Houston, TX – Rudyard's
November 13 – Dallas, TX – Granada Theatre
November 18 – Atlanta, GA – Center Stage
December 16 – Nashville, TN – Tennessee Performing Arts Center
*opening for Jars of Clay
DAVE BARNES LINKS
www.davebarnes.com
www.facebook.com/davebarnesmusic
www.twitter.com/davebarnesmusic
www.myspace.com/davebarnes
www.youtube.com/thedavebarnes
For more info on Dave Barnes visit the JFH Artists Database.