PRAISE HYMN CONTINUES TO INNOVATE THE DIGITAL
DELIVERY OF SOUNDTRACKS WITH NEW MOBILE PHONE APPLICATION
PraiseHymn.com Named 2011 "Best of the Best" by Worship Leader Magazine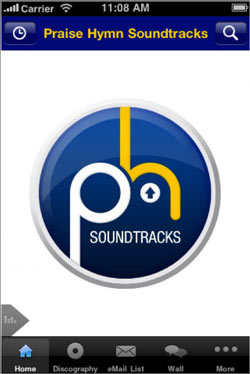 NEWS SOURCE: Provident Music Group
November 22, 2011
(NASHVILLE, Tenn.) Nov. 22, 2011-- Praise Hymn Soundtracks, a division of Provident Label Group, continues to pioneer the delivery of digital soundtracks with a new mobile phone application for Android and iOS devices, the first of its kind. Furthermore, PraiseHymn.com, the online store of Praise Hymn Soundtracks, was recently named among Worship Leader Magazine's 2011 "Best of the Best."
The Praise Hymn Soundtracks App is a first for this premier provider of Christian music accompaniment tracks. The product offers singers and performers unprecedented convenience browsing, streaming and purchasing accompaniment tracks right from their mobile device. Available for free in the Apple and Android stores, new titles are being added daily. Visit www.praisehymn.com for more information.
In other news, PraiseHymn.com, the most innovative and extensive website for searching, streaming and purchasing digital as well as physical CD accompaniment tracks, was included in Worship Leader Magazine's "Best of the Best" issue (October 2011), out now.
This annual issue includes the editor's picks for those most notable resources that have affected worship leaders and their teams in the past year. PraiseHymn.com was touted in the category of top "Planning Resources." For a complete list of 2011 editor's picks view the digital edition online at www.worshipleadermedia.com.
"Praise Hymn is honored to be included among Worship Leader's top resources," says Associate Director of Church Music Marketing for Sony Music Entertainment/Provident Label Group, David Jordan. "We established PraiseHymn.com to give soloists, groups and worship leaders a huge variety and ultimate convenience. We also take pride in the fact that if a physical title is out of print, singers can more than likely find it on our site. It is nice to receive such recognition for our brand."
About Praise Hymn Soundtracks
Praise Hymn Soundtracks is a division of Provident Label Group. In 2009 Praise Hymn Soundtracks launched PraiseHymn.com, allowing users to search Praise Hymn's vast catalog online and download individual titles in high, medium and low keys as needed. The only web site of its kind, PraiseHymn.com also includes the MasterTrax original artist tracks, exclusively for Provident and EMI CMG artists, and Sound Performance track lines. PraiseHymn.com adds titles regularly and boasts more than 3000 songs. Follow Praise Hymn Soundtracks on Twitter (@praisehymn) or like them on Facebook (Praise Hymn Tracks). For more information on Praise Hymn Soundtracks and its products, visit www.praisehymn.com.
###