ONE NIGHT ON TOUR WITH UNITED CAPTURED FOR THE
FIRST TIME EVER - LIVE IN MIAMI RELEASES FEB. 14
First Live Album In Four Years Captures Dynamic of
UNITED's 2011 Aftermath Tour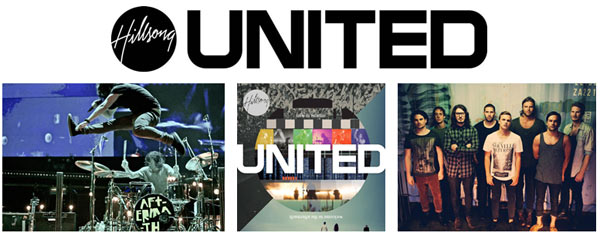 NEWS SOURCE: Hoganson Media
January 13, 2012
Intent on bringing a raw, authentic worship experience in a stadium filled with thousands of people set on worshipping Jesus Christ, UNITED's Live In Miami was recorded during the band's sold out worship night Aug. 6, 2011 at American Airlines Arena in Miami. The event was part of the 2011"Welcome To The Aftermath" tour that consisted of 32 events with 182,000 people filling venues to capacity in venues across the country - from New York to Miami to Los Angeles, where UNITED became the first Christian band to sell out Staples Center. While UNITED are certainly known for their live albums and DVDs, the release of Live In Miami marks the first time for the band that one night has been captured in its entirety - from the first song to the last encore. The purpose of the tour, as always for UNITED, was to passionately seek and worship God.
Having led worship in churches, stadiums and open fields around the world, UNITED's Live In Miami is a return to the live album format and is the first live release from the band in four years. Releasing Feb. 14, the Live In Miami double-CD and DVD each feature 22 songs comprised of Hillsong favorites like "Mighty to Save," "From The Inside Out" and "The Stand," as well as newer songs from UNITED's acclaimed Aftermath studio CD (2011), including "Search My Heart," UNITED's biggest radio hit to date. The DVD contains over 2 hours of inspiring anthems, "drum battles," behind-the-scenes footage and more. A physical deluxe package is also available that combines the double-CD with the full length DVD.
An album "teaser" video can be seen at this link, and the full UNITED, Live In Miami CD/DVD track listing follows:
TRACK SONG TITLE COMPOSERS
1 Go Matt Crocker
2 Break Free Matt Crocker, Joel Houston & Scott Ligertwood
3 You Joel Houston
4 Search My Heart Matt Crocker & Joel Houston
5 Mighty To Save Ben Fielding & Reuben Morgan
6 Hosanna Brooke Fraser
7 All I Need Is You Marty Sampson
8 Bones Joel Houston & Jill McCloghry
9 Nova Michael Chislett, Matt Crocker & Joel Houston
10 Aftermath Joel Houston
11 Freedom Is Here Scott Ligertwood & Reuben Morgan / Shout Unto God Joel Houston & Marty Sampson
12 Like An Avalanche Joel Houston & Dylan Thomas
13 Rhythms Of Grace Chris Davenport & Dean Ussher
14 Oh You Bring Matt Crocker
15 The Stand Joel Houston
16 From The Inside Out Joel Houston
17 With Everything Joel Houston
18 Your Name High Joel Houston
19 Take It All Matt Crocker, Scott Ligertwood, Marty Sampson
20 Yours Forever Joel Davies & Braden Lang
21 Take Heart Joel Houston
Traversing the world's continents, UNITED continues its cross-cultural journey of music and worship. Recently in Atlanta Jan. 2 for Passion 2012, UNITED returns to Miami Feb. 10 for the One conference. On March 9, the band will be at the Smoky Mountain Winterfest in Knoxville, TN. The latest tour dates and additional information on UNITED can be found at www.hillsongunited.com, www.youtube.com/hillsongunitedtv and www.facebook.com/hillsongunited, where the band has over 2.6 Million fans.
In studio and out of studio, on tour or home at Hillsong Church, UNITED is committed to sharing songs that speak truth, create a unique sound, connects with churches, individuals and ultimately connects people everywhere with God. Born out of the Youth Movement of Australia's Hillsong Church, UNITED is fronted by worship leaders Joel Houston, Jad Gillies, Jonathon "JD" Douglass and backed by an evolving collaboration of pastors, worship leaders, musicians and songwriters - all intentional about giving voice to a generation passionate about God.
For more info on Hillsong UNITED visit the JFH Artists Database.