Three-Time GRAMMY ® Nominee Mandisa
Embarking on National Tour this February
Dance Fitness Radio Promotion Announced for Tour

Mandisa to Attend 54th Annual GRAMMY ® Awards Next Month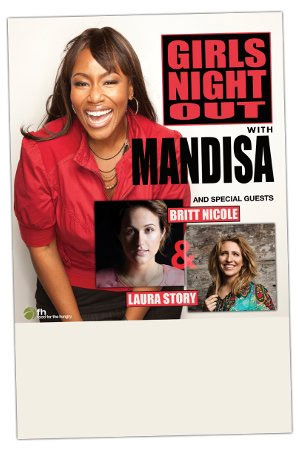 NEWS SOURCE: The M Collective
February 1, 2012
Nashville, Tenn. Feb. 1, 2012… After selling out numerous stops nationwide on her spring co-headlining tour with comedian Anita Renfroe, Mandisa will return this spring as she headlines the "Girls Night Live" tour. Sponsored by well-known philanthropic organization Food For the Hungry, fellow GMA Dove Award nominee Britt Nicole and "Blessings" songstress Laura Story will join the bill. Starting in early February, the tour will visit nearly 40 markets and will wrap in May. A full list of tour dates are listed below, with complete tour information available at www.girlsnightlive.com.
As part of the "Girls Night Live" tour, Mandisa will partner with local radio hosts to lead all concert goers in a dance fitness routine to her catchy track "Good Morning" as part of Mandisa's live show. Contest winners from the radio promotion will also win meet & greets and a chance to appear on stage during the song. The multiple GRAMMY ® nominee will also be placing an instructional video online of "Good Morning's" dance routine.
Season 5 American Idol finalist Mandisa's 3rd GRAMMY® nomination comes in the "Best Christian Album" category for her 2011 release What If We Were Real on Sparrow Records, which has sold over 140,000 units since its release last April. The GRAMMY ® nomination comes after celebrating her first No. 1 single at AC radio. The 54th Annual GRAMMY ® Awards will air live, Sunday, Feb. 12, 2011 at 8pm ET/7CT on CBS. The awards will be held in Los Angeles at the Staples Center.
About Mandisa:
Three-time GRAMMY ® nominee Mandisa's discography includes True Beauty, It's Christmas, Freedom and most recently What If We Were Real on Sparrow Records. The season 5 American Idol finalist is also an author with the release of "Idoleyes: My New Perspective on Faith, Fat & Fame." Mandisa was one of several Idols selected to open Walt Disney World's American Idol Experience in early 2009. Known for her transparency, Mandisa has been seen on Today, CNN Online, E! News Live, EXTRA as well as the pages of US Weekly and People discussing her weight loss journey. She is also a multiple GMA Dove Award nominee, and earned her first No. 1 radio hit this year with "Stronger." www.mandisaofficial.com, twitter.com/mandisaofficial
# # #
"Girls Night Live" Tour
* All dates subject to change, stay tuned to www.girlsnightlive.com for the latest information.
Thursday 2/16 Anderson, IN
Friday 2/17 Eden Prairie, MN
Saturday 2/18 Bellevue, NE
Sunday 2/19 Raytown MO
Thursday 2/23 Johnson City, NY
Friday 2/24 Jamestown, NY
Saturday 2/25 Rochester, NY
Sunday 2/26 Roanoke, VA
Friday 3/2 Bethany, OK
Saturday 3/3 Ft. Smith, AR
Thursday 3/15 Springfield, IL
Friday 3/16 Wichita, KS
Saturday 3/17 Springfield, MO
Sunday 3/18 Tulsa, OK
Thursday 3/22 Dallas, TX
Friday 3/23 Amarillo, TX
Saturday 3/24 Fayetteville, AR
Thursday 3/29 Dothan, AL
Friday 3/30 Aiken, SC
Saturday 3/31 Norcross, GA
Sunday 4/1 Fayetteville, GA
Thursday 4/12 Conway, AR
Friday 4/13 St. Louis, MO
Saturday 4/14 Elkhart, IN
Sunday 4/15 Woodbridge, VA
Friday 4/20 Simpsonville, SC
Saturday 4/21 Asheville, NC
Sunday 4/22 Westerville, OH
Thursday 4/26 Orlando, FL
Friday 4/27 Clearwater, FL
Saturday 4/28 Summerville, SC
Sunday 4/29 Macon, GA
Thursday 5/3 Bristol, TN
Friday 5/4 Savannah, GA
# # #
For more info on Mandisa visit the JFH Artists Database.