JENNA LUCADO BISHOP CELEBRATES THE RELEASE OF HER BOOK:
"FROM BLAH TO AWE: SHAKING UP A BORING FAITH"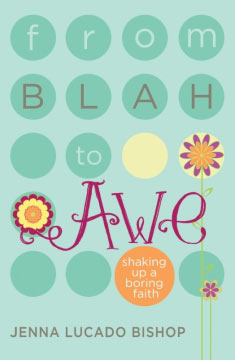 NEWS SOURCE: Merge PR
February 16, 2012
(Nashville, TN) February 16, 2012 - Best-selling author and speaker Jenna Lucado Bishop is celebrating the release of her new book, "From Blah To Awe: Shaking Up a Boring Faith," in stores and online now. This nonfiction book offers teen girls insight in how to walk daily with God in a passionate way. The book releases on the heels of the upcoming 2012 REVOLVE teen girl conference, which will feature Jenna as a headline speaker, starting February 25.
In "From Blah To Awe" (Thomas Nelson, Trade Paper, ISBN #978-1-4003-1665-7, $14.99), Jenna writes to teens in a conversational style that they will find refreshing and relatable. Jenna also encourages her audience to become active readers who participate in the spiritual disciplines she describes that will revive and build their faith. It is this relatable writing style and passion for ministering to teens that is recognized by her peers.
"I simply admire Jenna Lucado Bishop," shares Chad Eastham, author and REVOLVE speaker. "Not just as a communicator, or a friend, or a speaker, or a writer. If you know Jenna, then you have some inkling of how much she craves to love people, and find ways to show people how much God loves them. Jenna is tearing at the seams in spirit and with words for people to understand the Bible, to see themselves in such beautiful and loved ways, and she does this in as authentic a way as I have ever seen."
Both Jenna Lucado Bishop and "From Blah To Awe" have received early praise from the media. Currently, Jenna is the Author of the Month on NewReleaseTuesday.com. The book has been featured online at GMCtv and in this month's issue of "CBA Retailers+Resources." "From Blah to Awe" is also generating buzz in the blogosphere, as bloggers are eager to feature Jenna's relevant advice for teens.
Next week, Jenna will be featured in several interviews including the "Debbie Chavez Show" (Monday, February 20 9:05 am PST), "The Clemens Report": IRN/USA Radio Network, Premiere Radio UK and other local market radio stations. She will also be a guest in March on Living Inspired Radio with Tricia Goyer.
# # #
About Jenna Lucado Bishop:
Daughter of best-selling author Max Lucado, Jenna Lucado Bishop has realized that she has a passion for writing and speaking just like her dad. She is currently a part of the Revolve Tour, an event for teen girls that includes Christian artists like KJ-52, Jamie Grace, Chad Eastham, and many more.
About Thomas Nelson:
Thomas Nelson, Inc. is the world's largest Christian publisher. The Company provides multiple formats of Bibles, inspirational books and digital content, with distribution of its products in more than 100 countries. Live Event Management, Inc., a Thomas Nelson company, is the nation's leading producer of Christian live events. Thomas Nelson is headquartered in Nashville, TN. For additional information, please visit http://www.thomasnelson.com.