Award-Winning Singer/Songwriter Natalie Grant and International Speaker & Author Charlotte Gambill
Announce Ground-Breaking Nationwide Dare To Be Women's Event
Revolutionary movement challenges women from all walks of life to be all that God has destined them to be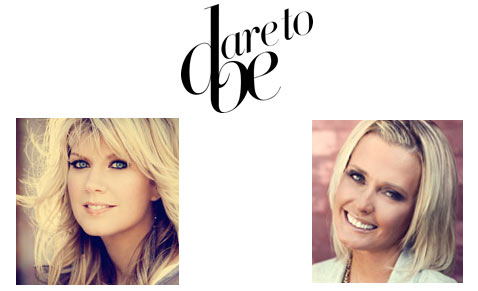 NEWS SOURCE: Rogers & Cowan
February 17, 2012
Los Angeles, Calif. (February 17, 2012) - Dare To Be, a brand new live women's event birthed from a realization of a dream from two close friends, kicks off its 2012 spring tour in Oklahoma City, OK on April 12. This revolutionary event features Nashville based four-time GMA Female Vocalist of the Year and 2012 GRAMMY nominee Natalie Grant, alongside international speaker and author Charlotte Gambill. Grant and Gambill are embarking on this nationwide tour to dare women from all walks of life to aim higher, to stretch further - to trust.
"We want to provide a place where women can rediscover their God- given dreams," says Grant. "We want to encourage women to go further than they ever thought possible; that right in the middle of their routine, God wants to shake things up. And right in the middle of hardship, God is providing the fuel for us to do more than just survive; He's calling us all to thrive. Dare To Be is an event that will equip women with courage; so that they can be all that God has destined them to be."
No newcomer to the Christian arena, Grant's work has gained international acclaim, including four consecutive Dove Awards for Female Vocalist of the year. She is married to producer Bernie Herms and they have three children Grace Ana, Isabella Noelle and Sadie Rose. Gambill is an international speaker and author, best known for her practical and passionate application of God's word. Her messages of life and purpose are rallying a generation to embrace the broken and become ambassadors of hope. Gambill helps lead Abundant Life Church in England. She and her husband Steve have two children, Hope Cherish and Noah Brave. For the first years of their friendship, Grant and Gambill ministered together on several occasions in the UK and USA. Complete strangers at first, God instantly knit their lives together. Now six year later, they are the closest friends and are excited to be walking out a purpose that God united them for.
Presented by Hello Somebody and sponsored by Regent University, the Dare To Be nationwide events will highlight Grant and Gambill's unique American, English combination. Each evening will feature Grant's musical talent and Gambill's powerful speaking, bringing to life a practical interpretation of God's word that remains alive for our everyday challenges.
"This wasn't an event we planned," says Gambill. "We feel it's a journey we are unfolding and inviting others to join. The earth needs its mothers, daughters, sisters to stand up and unite to care, to involve, to help," she continues. "Sometimes you just need someone to come alongside you that understands your journey, to open their heart and share honestly their mistakes and victories. This event is to encourage women to 'dare to be' all God says they can be, to cheer them on and remove limitations, excuses and liberate dreams and destinies."
"We want attendees to walk away with confidence, encouragement, excitement, purpose and a willingness to 'dare to be,'" says Grant.
For more information about Dare to Be events and to purchase tickets, please visit http://daretoberevolution.com/.
Dare to Be dates & locations
Date City / State Location Tickets
April 12th Oklahoma City, OK Victory Church
April 13th Lafayette, LA Crossroads Church
April 24th Omaha, NE [To Be Announced]
April 25th Englewood, CO Denver First Church
April 26th Wichita, KS Countryside Christian Church
April 27th Austin, TX Shoreline Church
May 3rd Little Rock, AR Agape Church
May 4th Frisco, TX (Dallas) Hope Fellowship
May 5th Kansas City, MO Graceway
May 6th St Louis, MO Crosspoint Church
###
For more info on Natalie Grant visit the JFH Artists Database.