NATALIE GRANT & BERNIE HERMS APPEAR ON 20TH ANNUAL MOVIEGUIDE AWARDS TONIGHT ON THE HALLMARK CHANNEL
Grant performs Grammy ® nominated song "Alive"
Co-written & produced by Herms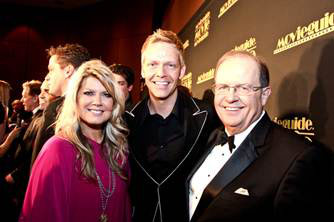 *Photo Credit: Courtesy of the MOVIEGUIDE Awards: From Left to Right-Natalie Grant, Bernie Herms & Founder and Publisher of MOVIEGUIDE® Ted Baehr*
NEWS SOURCE: Rogers & Cowan
February 24, 2012
WHO: Grammy nominated best-selling artist Natalie Grant appears alongside critically acclaimed, award-winning producer and husband Bernie Herms.
WHAT: The 20TH ANNUAL MOVIEGUIDE AWARDS is a ceremony that awards the best family-friendly and spiritually uplifting entertainment. Hosted by Dean Cain, with performances by Pat Boone, Natalie Grant, B.J. Thomas and more. Grant will perform the GRAMMY nominated song, "ALIVE," which was co-written and produced by award-winning producer Bernie Herms. Together, the married duo will present the award for 'The Grace Award for Movies.'
WHEN: FRIDAY, FEBRUARY 24, 2012 at 8 PM EST
WHERE: HALLMARK MOVIE CHANNEL (check local listings)
Visit http://tinyurl.com/6ubvb45 for viewing times, channel locator in your area, and additional information.
For more information on Natalie Grant, please visit www.nataliegrant.com.
For more info on Natalie Grant visit the JFH Artists Database.