White Collar Sideshow Announce Details On New Project, "The Witch Hunt"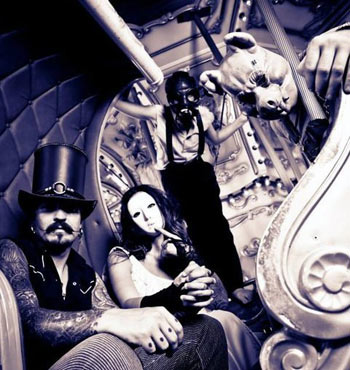 NEWS SOURCE: White Collar Sideshow
April 30, 2012
Today, White Collar Sideshow frontman TD Benton made the following announcement regarding their latest project, The Witch Hunt...


Hello Freaks, Geeks and Rousties....
It's been a minute, so I feel a progress report on the new project is due to say the least....How in the world is 2012 already 1/3 gone? This year has blown by and we still don't have The WitcHunt completed. But boy, are we close! The video that will play along with us on stage is much more extensive than WCS 1. The first show, we had about 10 actors total....for The WitcHunt, we are almost to 100 actors! It's also 100% our work. The last performance, we used clips from old monster movies and cartoons, but this one is all of our own film and it's longer....about 45 minutes total. It has been a lot of work and very time consuming. Organizing shoot locations, wrangling extras, making sure everyone is on time and knows what's going on. And....the editing. We have so much footage to filter through. Our video mastermind, Travis Joiner, has been amazing and so patient with us. Trucking along and hoping to have it all edited by mid-May. Then we can really prep our live show so we will be ready for festival season. I'm so ready to see it finished!
On the musical side of things, I have, in my grasp, the mastered version of our first full length album. It was produced by Chris Baseford and myself, TD Benton, engineered/mixed by Chris and mastered by Bruce Somers. Somewhat of our gameplan is to release a single right before festival season, just to give everyone a little taste, and we will release the music, with the film, in the fall. We will be showcasing the new performance at the festivals, and touring to support the fall release of "The WitcHunt!" We are still in need of raising funds for packaging, artwork, merch and everything else that goes along with putting a project like this together. If you feel like this is something you can donate to, please help us by heading to the donation page at www.whitecollarsideshow.com or even buying some merch cause it's STILL on sale............. we can use all the help we can get, no matter how small or large!
Part of what we do takes so much time because film goes along with the performance, in other words, it takes twice, or three times as long to put something out than just any band putting out a new recording. Sometimes I feel if we just dropped the film aspect, we could keep up with everyone else and spend less of what we don't have on just music. But the film is what sets is apart, it gives us another voice and allows our art to have a uniqueness to an already unique perfrormance. Patience is everything for us at this moment, taking our baby steps and making sure all our ducks are in a row so that this performance will be excellent, exciting, a bit haunting and certainly very challenging to myself and a public eye.
Veronica has started the booking process for this summer and around festivals, if you would like to book this performance contact her here: booking @ whitecollarsideshow.com. We will also be booking for the CD/DVD release this fall in support of "The WitcHunt," as we will most likely tour this performance for the next few years. We feel like this performance is also geared to a more broad and general audience as well, so if there are in venues that you know of where we could meet people where they are at, we would love to perform in these areas.
I'm very excited about the artistic direction and the passion of where this project is headed. I'm starting to realize who we are as a band, a performance and our personal gyspy lives. In the future i would love to perform at more horror movie conventions, tattoo conventions, places where we can be who we are and our lives be a tool to love people and meet them where they are at, but still being able to challenge people and inspire people to go farther with the audience who have already accepted us and believe in what we are doing. I want to thank everyone who is keeping up with us, for the peeps who have been helping us get by financially while we've been down and for everyone who believes in what we are doing regardless of how strange and unusual it is. You will not know what to expect on the next show, and I love it like that. It's definitly next level and a challenge for me personally. Please forward this update along, and if you do know someone who is interesed in helping in anyway, don't hesitate, send them our way!Love from the gyspsies! We can't wait to hear thoughts and feedback...
Cordially yours,
td