Debut EP From THE MODERN POST Available Today
Created at Mars Hill Orange County, the Grace Alone EP features frontman Dustin Kensrue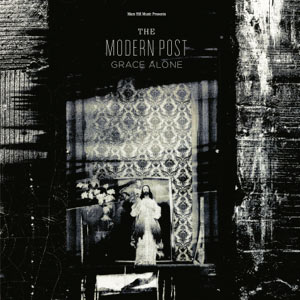 NEWS SOURCE: Biscuit PR
August 14, 2012
Seattle, WA - Mars Hill Music is proud to announce the release of Grace Alone, the debut EP from THE MODERN POST, available today, August 14. Made up of worship leaders from the Mars Hill Orange County Church, THE MODERN POST has created a retro, synth-laden, bass-heavy sound that leads listeners to praise the creator with freedom and joy.
THE MODERN POST cites their name to the idea of how the Gospel is news to be declared, with content that is relevant and current regardless of what era one is living in.
"THE MODERN POST name is obviously a bit of a riff off of the term 'postmodern'," explains Deacon Dustin Kensrue. "But what I really like about it is the fact that "post" is associated with news, with an announcement. Whether it's a letter delivered, a newspaper, or on the latest blog, the post is proclaiming something.
"As the church, we are the recipients of the greatest post of all time: the good news, the gospel of Jesus Christ. This news is for all people, at all times, both in and out of the church and is therefore always modern or current. Far from being something made obsolete by its antiquity, the gospel is the most timeless and timely of news-always. And as the church, we have the great joy of not only being recipients of this news, but its heralds as well."
The musicians in THE MODERN POST come from extensive and diverse musical backgrounds. Frontman Deacon Dustin Kensrue, played with the acclaimed rock band THRICE for fourteen years, releasing eight albums and touring internationally. His testimony speaks of God breaking him of "intellectual hubris", and coming to see God's sovereignty in his salvation. The lyrics in both his previous musical endeavors and his worship songs communicate this, pointing people to the God who owes them his justice, yet gives them his grace.
Brothers Phil and Lee Neujahr comprise the rhythm section of THE MODERN POST, playing the bass and the drums, respectively. They both played music together for six years in PACIFIC HURT, a band formerly known as AUSHUA. Jonny Sandu, the synth player, has played the piano since he was five. Classically trained, Jonny has performed internationally, and played in other bands and churches as well.
Dustin, and the other members of THE MODERN POST, appreciate the stylistic freedom that Mars Hill Music provides. The band's sound was not one that was originally planned for. In Dustin's words, "it happened". Having the perspective that much worship music can be overly sentimental, they choose to push against that by creating music that is celebratory and upbeat. As a result, THE MODERN POST's sound is one that bespeaks robust joy, and leads people to exult in the good news that Jesus is relevant for all generations.
THE MODERN POST EP Grace Alone, available today in select stores and at retail outlets online.
http://marshill.com/music/albums/grace-alone
# # #