Candace Cameron Bure Invites Fans to Join Her in Israel for a 10-Day Holy Land Tour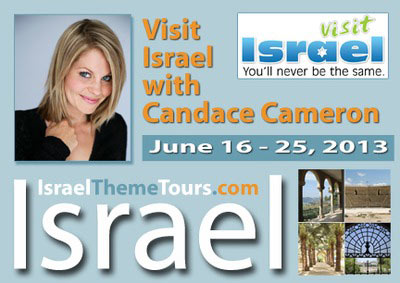 NEWS SOURCE: Nashville Publicity
August 28, 2012
(NASHVILLE, Tennessee) -- Israel Theme Tours is proud to announce that Candace Cameron Bure will be taking fans to Israel, June 16-25, 2013. The 10-day, VIP-style tour of the Holy Land will offer fans a once-in-a-lifetime vacation experience.
Known to millions worldwide from her role as "D.J. Tanner" on the iconic family sitcom "Full House," the actress, producer, New York Times' bestselling author and inspirational speaker will join the tour group each day for a variety of activities, including exclusive fan access with plenty Q&A and photo opportunities.
Travelers will follow in the footsteps of Jesus, explore the ruins of the ancient port city built by King Herod, experience the Western Wall and the ancient city of Jerusalem, float in the Dead Sea, visit Yad Vashem (Holocaust Museum), roam the beaches of Tel Aviv, experience baptism in the Jordan River and much more.
"I've dreamed of going to The Holy Land," says Candace." The mere thought of it has brought me tears of joy. I'm so excited this is now a reality! I can't wait share this first time experience with my family, closest friends and fans!"
The tour is limited to 50 travelers, and registrations are being accepted now. Families and travelers of all ages are welcome. The cost per traveler is $3,595.00, which includes roundtrip airfare from New York City, 4-star hotels and resorts in Israel, daily breakfast and dinner, air-conditioned bus with WiFi and more. For international travelers that want to make their own flight arrangements, "land only" packages are available at a reduced price. A deposit of $300 is required at the time of reservation. Payments plans are available and all major credit cards are accepted. For more information, go to www.israelthemetours.com/candace.
As an actress, Candace appeared in hit films like "Some Kind of Wonderful" and the Tom Hanks starrer "Punchline," and prime-time hits such as "St. Elsewhere," "Growing Pains," "Who's the Boss," "That's So Raven" and ABC Family's "Make It or Break It," where she spent the past three years playing "Summer Van Horn." Her most recent TV movie credits include Hallmark's "Puppy Love" and "Moonlight & Mistletoe," "Truth Be Told" and the Emmy nominated "The Heart Of Christmas."
In 2011, Candace added New York Times best-selling author to her many titles with her book "Reshaping It All: Motivation for Physical and Spiritual Fitness" (B&H Books) that inspires women to embrace a healthier lifestyle by moving faith to the forefront of their relationship with food. She also recently launched RooMag.com - an online magazine for women that focuses on motherhood, relationships, homemaking, fitness, fashion and everything in between.
Candace is married to NHL star Val Bure, and she is the proud mother of Natasha, Lev and Maks.