LEGENDARY ROCK SINGER JOHN SCHLITT
TO GUEST ON THE MIKE HUCKABEE SHOW
Award-Winning Vocalist Joins Former Governor
On Friday's Edition Of Popular Radio Talk Show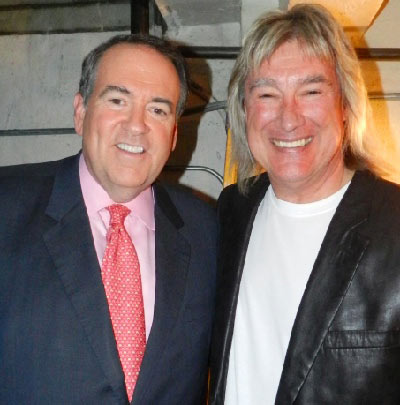 Photo caption: John Schlitt, right, recently chatted with former Arkansas Governor Mike Huckabee, left, at the Faith and Freedom Celebration. (Ruth Malhotra/Faith and Freedom Coalition photo)
NEWS SOURCE: McCain PR
October 24, 2012
NASHVILLE, Tenn. (October 24, 2012) - Multiple Grammy and Dove Award-winning recording artist John Schlitt will be a guest on Friday's edition of The Mike Huckabee Show, the popular Cumulus Media radio talk show hosted by former Arkansas governor, Mike Huckabee. For broadcast times and affiliate stations, visit mikehuckabee.com.
Schlitt and Huckabee met when the two shared the stage at the Faith and Freedom Celebration in Tampa, Fla., in August. The the legendary rock singer performed at the event, which was hosted by the Florida Faith and Freedom Coalition and held in coordination with the Republican National Convention. During the event, Schlitt sang his song "Faith & Freedom" from his critically-acclaimed CD, The Greater Cause, and met with Republican Party dignitaries, including Huckabee. Following Schlitt's performance, as the the singer and former governor chatted backstage, Huckabee invited Schlitt to be a guest on his radio show. "I believe Governor Huckabee is an example of a true patriot," Schlitt says. "I'm excited about the opportunity to have a conversation with someone I very much respect."
The Greater Cause, Schlitt's fourth solo CD, was released May 8 by 4K Records and is distributed by New Day Christian Distributors. For more information about Schlitt and The Greater Cause, go to johnwschlitt.com or newdaychristian.com.
About John Schlitt:
With more than three decades worth of water under the musical bridge, John Schlitt has enjoyed a stellar career as a solo artist, as the former lead singer for Grammy Award-winning Christian band Petra, one of the most successful Christian rock bands of all times, and as the former lead singer for popular '70s mainstream rock band Head East. He has been inducted into the Gospel Music Hall of Fame as the lead singer of Petra during the years when the band won 10 Dove Awards and four Grammy Awards. Schlitt was recently named the best rock singer in Christian music history by GospelMusicChannel.com. According to the website, Schlitt "remains one of the most distinctive and impactful men to ever stand behind a microphone." Schlitt was also named Male Vocalist of the Year in About.com's 2011 Readers' Poll in a category that included Chris Tomlin, Jeremy Camp. Brandon Heath and Bebo Norman.
For more information on Schlitt, visit johnwschlitt.com or follow him on Twitter (@johnwschlitt) or Facebook (facebook.com/johnwschlitt).
About The Mike Huckabee Show:
The Mike Huckabee Show, hosted by former Arkansas governor, Mike Huckabee, launched April 9, and is heard on 200 affiliates nationwide through Cumulus Media Networks. The mantra of the radio show is "conversation without confrontation." For more information, visit mikehuckabee.com.
For more info on John Schlitt visit the JFH Artists Database.