HANDS & FEET PROJECT MAKES ITS NASCAR DEBUT
THIS WEEKEND!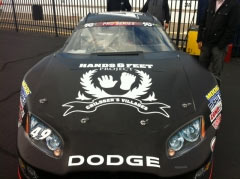 NEWS SOURCE: Merge PR
November 2, 2012
NASHVILLE, Tenn. November 2, 2012 – The Hands & Feet Project is sure to be seen by thousands this weekend! MacDonald Motorsports car #49, which will drive in NASCAR's K&N Pro Series race on Saturday, Nov. 3rd at 2pm EST, will feature the logo of the Hands & Feet Project. The car will be driven by 19-year old Harrison Rhodes. The race is the season finale at Rockingham Speedway.
"I'm really excited to see the Hands & Feet Project #49 on the racetrack this weekend," explained Jeni MacDonald, team owner. "I really hope we can raise awareness as to what Hands & Feet is doing and bring them more support."
Along with the Hands & Feet Project, Audio Adrenaline will also be presented on Harrison's #49 car. The multi-GRAMMY® award-winning band has recently reunited with a new lineup of like-minded musicians with the same common goal; to be the voice for orphans in Haiti and around the world.
"I am thrilled about getting to drive the Hands & Feet Project #49 at Rockingham Speedway this weekend," explained driver Rhodes. "It is going to be awesome getting to race at a track where there is so much history and where so many great drivers have raced."

About Hands & Feet Project:
In 2004, the members of Audio Adrenaline founded the Hands & Feet Project. Inspired by fan reaction to the band's song "Hands and Feet," HAF is a non-profit organization dedicated to providing long-term, family-style care for orphaned and abandoned children with the love of Christ. They strive to raise a generation of orphaned children who will grow up to reach their God- given potential, while empowering first world citizens to partner with them in service at home and abroad. The organization broke ground on their first Children's village in Cyvadier, a small town on the Southern coast near Jacmel, and began their journey of serving the forgotten children of the impoverished Caribbean nation. Currently tending to over 70 children in Cyvadier, a second village opened in Grand Goave in 2008 and is caring for 30 children. Visit handsandfeetproject.org for more information.
About Audio Adrenaline:
Developed as a band in the 1990's, Audio Adrenaline sold over three million records, garnered multiple Dove Awards and two GRAMMY® Awards, including Best Rock Gospel Album of the Year for Until My Heart Caves In and Worldwide. The band released 17 No. 1 singles, received RIAA Certified Gold for Bloom and was awarded CCM Song of the Decade for "Big House" in the 1990s. After disbanding in 2007, Audio Adrenaline is back with the same heart, passion and infectious musical prowess. Joining original band members Mark Stuart and Will McGinniss are former dcTalk member Kevin Max taking over lead vocals, CCM vets Dave Ghazarian (Superchick) on guitar, Jared Byers (Bleach) on drums, and singer-songwriter Jason Walker playing keys. Audio Adrenaline's label debut on Fair Trade Services is slated for a March 2013 release.
For more info on Jesus Culture visit the JFH Artists Database.