JESUS CULTURE PRESENTS NIGHT OF WORSHIP AND MINISTRY
TICKET PRE-SALE BEGINS DECEMBER 6, PUBLIC ON-SALE DECEMBER 7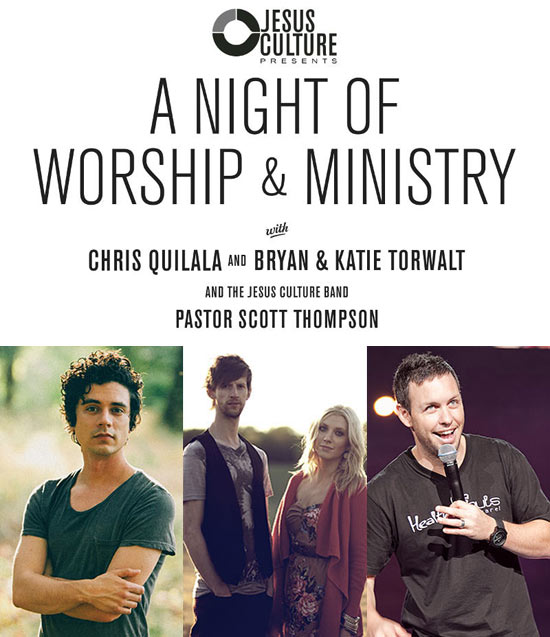 NEWS SOURCE: TKO Marketing
December 3, 2012
(High Point, N.C.) December 3, 2012 - Jesus Culture announces a Night of Worship and Ministry with Chris Quilala and Bryan and Katie Torwalt with the Jesus Culture band and Pastor Scott Thompson. The ticket pre-sales for the event begins December 6 with a public on-sale set for December 7.
A Night of Worship and Ministry is an evening focused on seeking the Lord through whole-hearted worship, prayer, and preaching. The night consists of worship with Chris Quilala and Bryan and Katie Torwalt with the Jesus Culture band followed by a time of preaching and ministry with Pastor Thompson. A Night of Worship and Ministry is an opportunity to seek the Lord and encounter His presence through an evening of worship, preaching and ministry.
Jesus Culture Night of Worship and Ministry Dates:
Date City/State
February 2, 2013 Boston, MA
February 3, 2013 New York, NY
February 5, 2013 Philadelphia, PA
February 6, 2013 Woodbridge, VA
February 8, 2012 Cincinnati, OH
February 9, 2013 Ft. Wayne, IN
February 10, 2013 Detroit, MI
February 11, 2013 Ontario, Canada
For more information and to purchase tickets, please visit: jesusculture.com/springtours. To purchase tickets during the pre-sale, use the promo code "worship".
About Jesus Culture: In the summer of 1999, the youth group led by Banning Liebscher at Bethel Church in Redding, California launched the first Jesus Culture conference. The heart of those gatherings was to serve other churches and lead young people to experience the radical love of God. A few years after hosting conferences in Redding, the Lord spoke to the group about helping develop a new breed of revivalists. Soon after, they mobilized taking Jesus Culture conferences to different regions of the U.S. and around the world. The Jesus Culture band was formed organically through the momentum of a movement whose focus is to equip a generation to be influencers of society. It's hard to separate the band from the movement, as they really are joined together with one focus: to bring people into an encounter with God's love through worship and to disciple them to transform society. The Jesus Culture band is fronted by Kim Walker-Smith and Chris Quilala with Ian McIntosh playing keys, Jeffrey Kunde as the lead guitarist, Brandon Aaronson as the bassist, and Josh Fisher as the drummer. Over the past 5 years, the Jesus Culture band has released five CD/DVDs with the latest one being Jesus Culture Awakening; Live from Chicago, in November of 2011. Each album captures the heart of this generation burning for God and seeking an encounter with His presence.
About Premier Productions: The Premier Group was formed in 1996 and is the parent company of Premier Productions and several other growing protégés including Premier Christian Cruises, Premier Festivals, Camp Electric, and Premier Foundation. Premier Productions promotes Christian concerts and events nationwide for their roster of artists, bands, speakers, and evangelists. Their goal is to make a significant difference for Jesus Christ in the lives of as many people as possible. For more information on Premier Productions, please visit www.premierproductions.com.
# # #
For more info on Jesus Culture visit the JFH Artists Database.