WORSHIPU GATHERS WORSHIPPERS, MUSICIANS & ARTISTS
FROM ALL OVER THE WORLD
Bethel Church's Groundbreaking Online School Of Worship
First Term Begins Jan. 14

WorshipU Training Program Features: Brian and Jenn Johnson, Bill Johnson,
Jeremy Riddle, Steffany Gretzinger, William Matthews, Chris Quilala
and Many More Bethel, Jesus Culture and Guest Instructors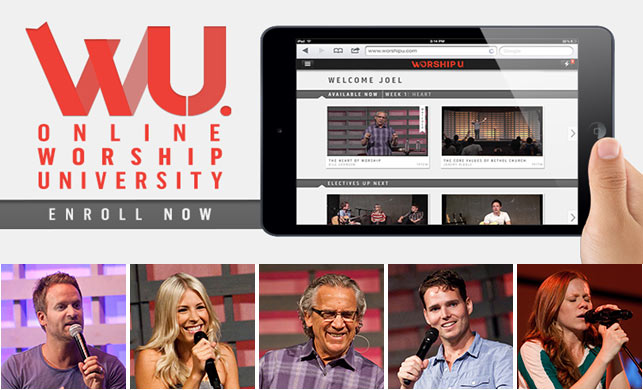 NEWS SOURCE: Hoganson Media
December 17, 2012
WorshipU is a groundbreaking three-month online worship school that has been developed by the Bethel Church worship community to help students (worshippers, musicians and artists from all over the world) discover their true identity, recognize their calling, walk in their destiny and become excellent in their craft. An extensive and thorough teaching platform, WorshipU seeks to further equip and empower worshipers everywhere to live a transformed life, while transforming the world around them. With their first term set to begin Jan. 14, and with a Jan. 6 registration deadline, students are encouraged to enroll now at worshipu.com. (Group rates are also available for worship teams.)
By registering for WorshipU, students will have the opportunity to learn from instructors and core leaders at Bethel Church, including Senior Worship Pastors Brian and Jenn Johnson, Senior Pastor Bill Johnson, Worship Community Pastor Jeremy Riddle, and Bethel Music artists Steffany Gretzinger (formerly Steffany Frizzell) and William Matthews, as well as Jesus Culture and Bethel Music musicians Chris Quilala, Jeffrey Kunde, Brandon Aaronson and Ian McIntosh, Bethel Music musicians Michael Pope, John-Paul Gentile, Daniel Mackenzie and Graham Moore, and many others. Guest instructors include worship leaders such as Christa Black, Sean Feucht, Ray Hughes, Dano McCollam and others.
WorshipU's compelling content is delivered through its innovative web app that works seamlessly on desktop computers, tablets, smartphones and laptops alike. Students will learn from these experienced instructors while engaging with assigned mentors, Bethel worship leaders, musicians and other WorshipU peers in an online community spanning the globe. Receiving the same music and leadership tools taught at Bethel's School of Worship in Redding, CA, WorshipU's core classes give students a Biblical theology of Spirit-filled worship and empowers them as leaders within their communities.
"My heart for WorshipU, our online worship school, is to take everything we've learned from key instructors around the world and put it into one program, so people can access it wherever they are," says Brian Johnson.
"Today there are more resources for worship leaders and musicians than ever, and obviously we want WorshipU to teach all of the practical skills," says Jeremy Riddle. "But far more than that, we want to raise up a group of musicians and worshippers who step into the unique way God has anointed them so that when they lead, they pull down heaven here on earth."
Assembling the combined knowledge from instructors over the last 10 years, WorshipU classes will cover worship leading, identity, character, team dynamics, community, the power of praise and more. Students will also have many elective courses that offer instruction for beginner to advanced musicians with vocal and instrument training to refine their musical skills. The program also offers songwriting classes, live streaming with instructors and behind-the-scenes worship sessions with Bethel Music teams.
Founded on a culture of honor where the glory of God is recognized and celebrated within each other, WorshipU believes that worship is at the forefront of revival: the personal, regional and global expansion of God's kingdom throughout the earth.
For more information on WorshipU and its instructors and classes, go to worshipu.com, or contact WorshipU at 855-WeWorshipU or hello[@]worshipu.com. WorshipU is also on Facebook (https://www.facebook.com/worshipuniversity) and Twitter (https://twitter.com/worshipuni).
About Bethel Church:
Bethel Church leads a rapidly growing "Global Legacy" association of nearly 2,000 churches around the world. In addition to the thousands of people that attend Bethel Church's weekly worship service, another 100,000-plus people subscribe to the online stream of the services at www.ibethel.org. Bethel Church is also home to Bethel Music (www.bethelmusic.com), formed as an organic extension of Bethel Church and representing the worship of the church.
# # #