Award Winning Author and Advocate Missy Buchanan to Release New Book, Joy Boosters, February 2013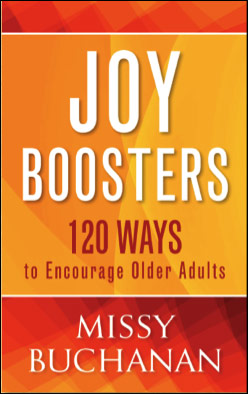 NEWS SOURCE: The M Collective
January 7, 2013
Nashville, Tenn (January 7, 2013) - Award winning author and speaker Missy Buchanan has inspired readers nationwide with her books on finding purpose in old age. Embracing her calling as an older adult advocate, Buchanan, the best selling author of Living with Purpose in a Worn-Out Body: Spiritual Encouragement for Older Adults, will release her newest project, Joy Boosters, in February 2013. Written much like a pocket guide, Joy Boosters is a practical volume filled with simple, creative ways to increase the joy in older adults' lives. The volume aims to help families, churches, and caregivers in meeting the needs of the aging.
Most recently, Buchanan collaborated with Good Morning Americaís Robin Roberts and her mother, Lucimarian Roberts, to write My Story, My Song, the heartwarming memoir of pivotal moments in Mrs. Roberts' life. In this popular read, 87-year-old Lucimarian reflects on how music, faith, and civic service played an important role in her life. The book includes touching reflections from Robin Robertsí memories of her mother, who passed away August 30, 2012. Following the release, Buchanan appeared on Good Morning America to promote the memoir, having previously appeared on the show to support her earlier work.
A sought-after speaker on topics of older adult ministry and spiritual creativity, Buchanan recently toured the East Coast, speaking to a variety of churches and senior resident centers. For more information about the author and upcoming speaking events, visit www.missybuchanan.com.
About Missy Buchanan:
Missy Buchanan is a co-author of My Story, My Song with Robin Roberts, co-anchor of Good Morning America and Robinís mother, Lucimarian Roberts. As an advocate for older adults, she is also the author of best selling books, including Living with Purpose in a Worn-Out Body, Talking with God in Old Age, Donít Write my Obituary Just Yet, and Aging Faithfully.
Buchanan has appeared on Good Morning America with Robin Roberts and WFAA-TVís Daybreak with Ron Corning in addition to many Christian television and radio shows. With humor and passion, she is also a sought-after speaker on issues of aging and faith for senior retirement communities, womenís groups and churches of all denominations.
Buchanan writes a monthly column, Aging Well, for the United Methodist Reporter and has also written for Presbyterians Today, Mature Years, Mature Living, Christian Association Serving Adults Ministries and MinistryMatters.com. She is a member of the Committee on Older Adult Ministries for the global United Methodist Church.
A native Texan and former creativity educator, Buchanan lives in Rockwall, TX with her husband, Barry. She loves spending time with her three grown children and spouses and her two grandsons.
Get Connected with Missy Buchanan:
Website // www.missybuchanan.com
Facebook // www.facebook.com/agingandfaith
Twitter // www.twitter.com/MissyBuchanan
###