THOUSAND FOOT KRUTCH WRAPS "WAR OF CHANGE" HEADLINE TOUR AMIDST MULTIPLE SELLOUTS
"WAR OF CHANGE" GATHERS OVER 4 MILLION YOUTUBE VIEWS

TFK BEST BUY® SIXX SENSE PROMOTION LAUNCHES THIS WEEK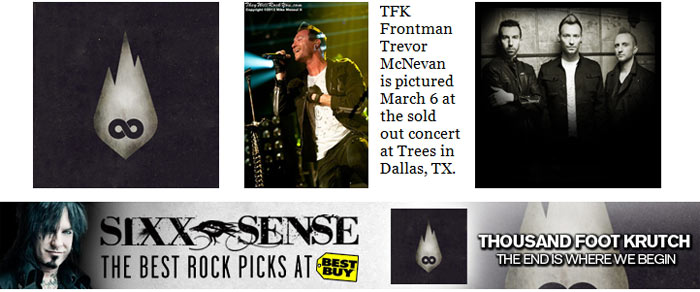 NEWS SOURCE: Hoganson Media
March 19, 2013
Modern rock favorites THOUSAND FOOT KRUTCH wraps up the winter leg of its "War Of Change" U.S. headline tour with capacity crowds in multiple markets, including Dallas, TX; Flint, MI; Lancaster, PA; Louisville, KY; Chattanooga, TN and more. Playing its hits and fan favorites, including songs from its independently released, 5-star acclaimed and No. 1 selling Billboard Hard Rock album, The End Is Where We Begin, the tour also featured Korn guitarist Brian "Head" Welch and his band Love and Death, as well as The Letter Black and The Wedding. The tour began Feb. 21 in Columbia, MD and hit significant club venues in 11 states before wrapping up March 17 in Huntington, WV.
The tour was named for TFK's Top 40 Active Rock hit single and video from The End Is Where We Begin, "War Of Change," which became the band's 13th No. 1 at Christian radio, landed at No. 1 on SiriusXM Satellite Radio's Octane Big-Uns Countdown and has been heard by over 16 million radio listeners so far according to Mediabase. The song has also become the band's first-ever independent video, and has received over 4 million views to date from the music video, lyric video and other YouTube placements of the song.
Following the success of the tour that included coverage by Loudwire, Pollstar, Alternative Addiction, Pure Grain Audio, CCM, They Will Rock You, CBN, 100 Percent Rock Magazine, Rock Revolt Magazine, Hear Magazine, TuneLab Detroit and many others, TFK's momentum continues with a significant retail boost from Best Buy. Beginning this week, the band's The End Is Where We Begin is being offered for $8.99 alongside albums by Metallica, Papa Roach, P.O.D. and others in an exclusive, multi-tier, eight week Best Buy Sixx Sense campaign.
Supported by Motley Crue's Nikki Sixx, the Best Buy promotion includes considerable advertising on Blast Beat Network (MetalSucks, Metal Injection, Lambgoat) and Fixion Media (Guitar World, Blabbermouth, and Bravewords) along with a targeted radio campaign and social media placements. More Sixx Sense details and information on how to enter to win an Onkyo Home Entertainment Sounds System can be found at http://www.sixxsense.com/pages/features/events/bestbuy/.
Receiving over 1,800, 5-star average customer reviews on iTunes® alone for The End Is Where We Begin, TFK has found that sometimes the best way to move forward is to go back to the basics, taking all of the raw energy and emotion of the past and channeling it into the present. For those who've been following the Ontario, Canada-bred players since their formation in 1997, it's been a continuously escalating highlight reel that includes best-selling albums, top Active Rock hits (including "War Of Change" and "Let The Sparks Fly" from The End Is Where We Begin, as well as "Fire It Up," and "Move"), tours like last summer's Third Annual Rockstar Energy Drink UPROAR Festival, plus a slew of soundtrack slots. In fact, the group has literally infiltrated every facet of pop culture, from ongoing ESPN appearances, to various NASCAR, MLB, NHL, WWE, NCAA and NFL airings (including the 2010 Super Bowl), along with the "GI Joe" movie trailer, WGN-TV's "Smallville" and EA Sports' NHL 2010 and 2013 video games.
All the latest tour dates and additional band information can be found at www.thousandfootkrutch.com, http://twitter.com/officialtfk and www.facebook.com/thousandfootkrutch, where the band has over 636,000 fans.
# # #
For more info on Thousand Foot Krutch visit the JFH Artists Database.