David Glenn is 'Relentless' about Worship with New Album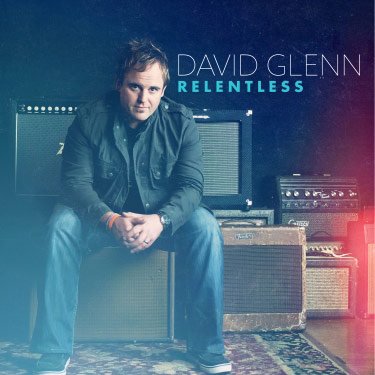 NEWS SOURCE: Nashville PR
August 8, 2013
(NASHVILLE, Tennessee) -- David Glenn's latest album, "Relentless" (Evident Music), was released on June 25th, and quickly climbed to #23 on the iTunes Christian and Gospel Albums Chart. Produced by Scotty Wilbanks (Third Day, Newsong, Decemberadio), Glenn's first nationally marketed release is now available at iTunes, Amazon and wherever digital music is sold.
Worship fans may know Glenn's music, even if they don't yet know his name, thanks to anthemic choruses such as "Glorify Your Name" and "Bread of Life" that are being sung by countless congregations every Sunday.
Glenn spent more than ten years in the Atlanta area building contemporary worship programs for churches from the ground up before moving to Virginia Beach in 2012 where he is on staff at River Oak Church. And while leading worship is his primary passion, the singer/songwriter has been performing praise concerts all across America and abroad, including an opening slot on NewSong's annual Christmas tour.
"My goal is to simply inspire a spirit of worship and be someone who is encouraging in other people's lives," says Glenn. "My goal is to do that in a creative and culturally relevant way, but at the end of the day, I want to put my guitar down and feel like what I contributed truly helped others worship the Lord."
That mission is more than accomplished with "Relentless," which has already been compared to contemporaries like Chris Tomlin and Passion. The album was recorded at Rockporium in Canton, Georgia, with an all-star list of musicians that included Alex Nifong (Laura Story/Backstreet Boys) and Jason Hoard (Third Day/Natalie Grant) on guitars, Christian Paschall (Unhindered) on drums, Heath Balltzglier (Fee) on bass, Matt Butler (NewSong/TobyMac) on cello and David Davidson (Tim McGraw/Casting Crowns) on strings.
With "Relentless," Glenn tackles universal themes that seek to meet believers wherever they may be in their faith walk, augmented by co-writing from fellow CCM mainstay Jason Cox on several tracks. The title track was inspired by Romans 8:38-39 and the reminder that nothing can separate us from the love of God, while the album's first single, "Great King," tells the tale of the Israelites initially turning away from God, but eventually taking the road back towards redemption (Psalm 95).
In the upbeat "Every Good and Perfect Gift" (inspired by James 1:17), the tone turns towards a heart of thanksgiving, and there's even a battle cry for unity with the contemporary pop cut "We Are One," which draws from Ephesians 4 and has thus far served as a mechanism for healing in a variety of relationships, especially when it comes to equipping the church to collectively take a stand together.
"Unity in the body of Christ is really a theme that runs through the whole record," explains Glenn. "When we gather corporately, that's our opportunity to join our voices together as one, which is my sole goal on this CD and on stage. I don't just want to get up and play songs, but to really speak truth into people's lives, allow them to be a part of it and make it their own."
Adds Glenn, "I hope these songs can be a resource to everyone I encounter to simply continue worshiping even long after I'm gone."
For more information, visit David online at www.davidglenn.com.
Track listing:
1-Great King
2-We Are One (Stand United)
3-You Reign
4-Relentless
5-Every Good and Perfect Gift
6-As I Am
7-For You (Shine Brighter)
8-Great King (Acoustic Version)
9-Relentless (Acoustic Version)
10-Relentless (Strings Only)
11-Like The Angels *
12-To Be Love *
13-Turn To You *
14-Like The Angels (Alternate Ending / Choir Mix) *
* Bonus tracks available on CD only
###