UPRISE FESTIVAL TO MARK 10TH ANNIVERSARY WITH FIREWORKS, TOP BANDS & TV'S BIGGEST STARS
Skillet, Newsboys, Family Force 5 and Jep & Jessica Robertson of A&E's Duck Dynasty Slated To Appear At Shippensburg Fairgrounds September 20 & 21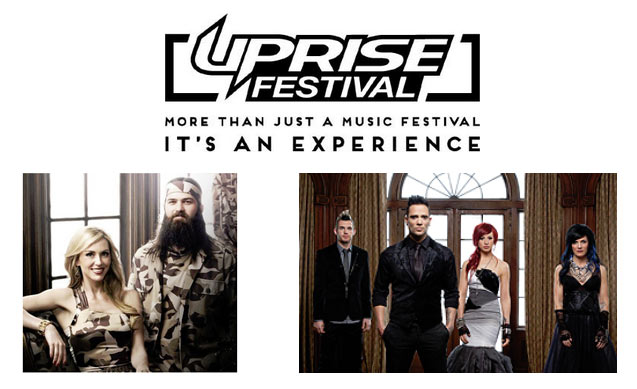 NEWS SOURCE: Springboard Entertainment
August 19, 2013
Shippensburg, PA (August 19, 2013) – Uprise Festival maintains its footing as the Cumberland Valley's premier Christian music event by pulling out all the stops for its 10th Anniversary Celebration. Welcoming 22 bands and speakers, including Jep & Jessica Roberts from A&E's hit show "
Duck Dynasty
,"
Skillet
,
Family Force 5
,
Newsboys
, Reggie Dabs and many more, the two-day Festival will be held Friday and Saturday, September 20th and 21st at Shippensburg Fairgrounds in Shippensburg, PA. The full line up, ticket information and other details can be found online at
www.UpriseFest.com
.
Tickets for the Festival start at $45 for full event general admission and have various price breakdowns for VIP ticketing. One day tickets are also available and camping may be purchased for an additional $60. A menu of ticket prices can be found in the Festival web store at www.ShopUprise.com.
"It is hard to believe it's been 10 years, but we are excited about this year's event and thrilled that Jep & Jessica Roberts from Duck Dynasty can join us to help mark this milestone," says Festival Producer, Scott Brown. "The community has been extremely supportive every step of the way and we want to show our appreciation by pulling out all the stops."
In addition to offering the industry's hottest bands, the Festival will provide free activities and entertainment for all ages including inflatables, a skate park, climbing wall, volleyball, a zip-line and, to commemorate the 10-year celebration, a fireworks display will close out the event on Saturday night.
Aiming to be a family-friendly event with something for everyone, the Festival hosts a children's program, Uprise Kidz, which will feature face painting, story telling, games and prizes, kids worship, clowns, snacks and much more. A Youth Leaders Lounge will also be available, providing resources, networking, encouragement from speakers and a place for youth leaders to hang out.
Uprise Festival will again partner with the Artesian Well Art Gallery, featuring works from local artists and intended to foster creativity and community.
Liz Bradford Patterson, Gallery Director, explains, "We are so thankful to have been part of Uprise for the last five years. We have grown and changed, but the constant is that we always provide an outlet for local artists and musicians to showcase their talents. A special new addition for this year will be live pottery and painting demonstrations throughout the day."
Artist submissions for the Gallery are still being accepted. More information can be found online at www.artesianwell.org.
Another new addition to the Festival is a 5k run. Details are still being solidified and will be announced soon.
For more information about Uprise Festival, to see the full lineup and to purchase tickets, please visit www.UpriseFestival.com or call 717.491.1955. Also follow the Festival on Twitter and FaceBook for up-to-the-minute news.
###