K-LOVE FINISHES STRONG IN 2013
NASCAR RACING SCHEDULE
MICHAEL McDOWELL DRIVES #18 K-LOVE TOYOTA
TO SECOND-PLACE FINISH IN OHIO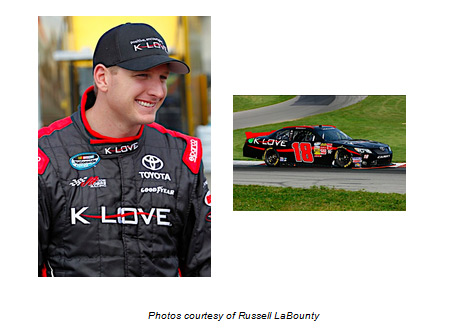 NEWS SOURCE: Merge PR
August 22, 2013
NASHVILLE, TENN. - Aug. 22, 2013 - This past weekend NASCAR Sprint Cup and Nationwide Series Driver Michael McDowell raced the #18 K-LOVE Toyota to a second-place finish at Mid-Ohio Sports Car Course in Lexington, Ohio. Securing the pole position for Saturday's Nationwide Children's Hospital 200 and running strong throughout the day, McDowell helped K-LOVE end its 2013 racing schedule on a high note.
McDowell has sported the K-LOVE logo on his cars at three races during this year's NASCAR schedule, including a top 10 finish at Daytona 500, along with the Johnsonville Sausage 200 and Nationwide's Children's Hospital 200. In February, McDowell drove the #98 K-LOVE Ford to his career-best effort and a ninth place finish during the season's biggest race - the Daytona 500 - continuing to prove that he's right where he needs to be.
"I know why I'm here," said McDowell. "I know I've been called to be in this sport, to help disciple the young guys coming up, and share my faith at our events...the racing is just the platform I have. I know God has a mission for me both on and off the track."
McDowell is part of the Phil Parsons Racing and the Joe Gibbs Racing team, alongside drivers Denny Hamlin, Kyle Busch and Matt Kenseth, to name a few. K-LOVE has sponsored McDowell in both the #18 Toyota and #98 Ford, strengthening the organization's NASCAR presence.
"K-LOVE's association with NASCAR, Joe Gibbs Racing and Michael McDowell in particular, is both exciting and rewarding," said Mike Novak, President/CEO of the K-LOVE and Air1 Radio Network. "To have Michael as a friend of the ministry is a real blessing."
For more information on Michael McDowell visit www.mmcdowell.com.
ABOUT K-LOVE RADIO
K-LOVE creates compelling media designed to inspire and encourage people to develop a meaningful relationship with Christ. K-LOVE is listener supported and delivers positive, encouraging contemporary Christian music through its 446 signals across 47 states. For more information visit www.klove.com.
###