In RISKY GOSPEL, Thomas Nelson Author Owen Strachan Encourages Modern Christians to Abandon Fear and Build Something Awesome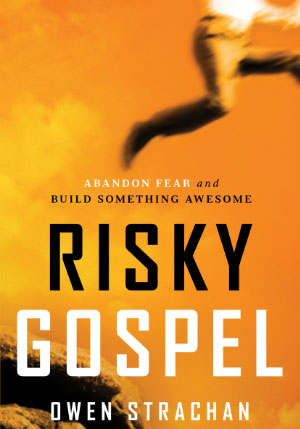 NEWS SOURCE: Nashville PR
October 29, 2013
(NASHVILLE, Tennessee) -- Do you ever feel pressured to act as if life is always good, people are always nice, and things are always going to get better? The reality is, we are living in troubled times. Sometimes life is hard, people can be mean, and things don't always turn out for the best. Life can actually be pretty tough, even if you are blessed enough to know the Lord. But there's hope.
In the upcoming book Risky Gospel: Abandon Fear and Build Something Awesome, due November 26th from Thomas Nelson, author Owen Strachan encourages readers to be bold and embrace a Christianity driven by a great God, a powerful gospel, and a holistically courageous way of life.
You don't have to ignore the bad stuff. In fact, Owen inspires readers to acknowledge the things that aren't so great in life.
"We know God is good and real, but we struggle to really act on that belief in everyday life," Owen writes, "because our problems feel bigger than God's promises."
But Owen assures readers that in spite of whatever the world throws at us, God promises that he will give us the ultimate gift: His unending presence and love.
Throughout the pages of Risky Gospel, Owen explains that the key to ramping up your spiritual life - is taking risks - God-driven risks. But that doesn't mean you have to sell all your possessions, quit your job for full-time ministry, or run a food pantry out of your home. Taking God-driven risks simply means we approach our families, churches, jobs, free time, hobbies and goals with God's glory in mind.
Risky Gospel is the perfect book for a student trying to make his way through the first year of college, a young professional looking to secure a financially stable life, or middle aged parents searching to find time in their busy day to be bold for God, and still make it to soccer practice in time.
"In a world of quotable tweets and YouTube attention spans, Owen has a knack for keeping us interested for more than 140 characters," writes Pastor Kyle Idleman, who provides the book's insightful forward. "Risky Gospel is a roadmap for the Christian who wants to move from spiritual risk manager to fearless follower."
While this book will attract readers who enjoy learning about the Christian faith, particularly from a cultural or spiritual standpoint, Owen's passion and humor makes the book attractive to a much wider audience.
Realistic challenges facing modern-day Christians mixed with traditional biblical teachings and practical application make Risky Gospel an easily accessible guide to lasting spiritual growth.