GSN ANNOUNCES SPECIAL TWO-HOUR PREMIERE EVENT
FOR THIRD SEASON OF "THE AMERICAN BIBLE CHALLENGE,"
THURSDAY, MAY 22 AT 8 PM (ET/PT)
Comedian and Author Jeff Foxworthy and Grammy® Winner Kirk Franklin Return
As Record-Breaking Original Series Kicks Off Season Three With Two Back-To-Back Original Episodes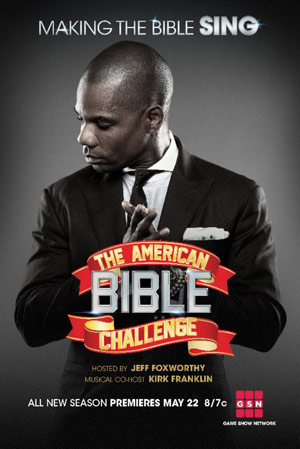 NEWS SOURCE: Ignition PR
April 23, 2014
New York, NY (April 23, 2014) - GSN announced today the third season premiere of its highest rated original series of all time, THE AMERICAN BIBLE CHALLENGE, a one-hour game show hosted by Jeff Foxworthy in which contestants compete based on their knowledge of the Bible. Season three premieres on Thursday, May 22nd at 8 PM (ET/PT) with two back-to-back original episodes and continues with new episodes Thursdays at 8 PM (ET/PT) on GSN.
In addition to 9 original episodes, season three of THE AMERICAN BIBLE CHALLENGE will bring a new set of diverse, fun and colorful contestants which include a team of former beauty queens, motorcycle riding priests, police officers and Mormon moms. THE AMERICAN BIBLE CHALLENGE has also added brand new games that put the contestant's spiritual and physical talents to the test with new categories that include "Christ or Klingon" in which contestants have to guess whether words are from the Bible or Star Trek's Klingon language; "Curse You Autocorrect" where contestants must decipher a typed Bible passage that has been "autocorrected" and "Nazareth Enquirer" with sensational Biblical headlines that could have appeared in a tabloid. Barry Poznick ("Are You Smarter Than a Fifth Grader," "Lingo") joins Tom Forman as Executive Producer for new season.
Comedian Jeff Foxworthy hosts this lively studio-based game in which contestants compete by answering questions drawn from the rich, dense narrative found in the world's best-selling book. In addition, the contestants share their compelling back-stories and each team plays for a charitable organization. GRAMMY® winner and multi-platinum-selling musician and producer Kirk Franklin, known for his unique style of Gospel music, serves as musical co-host of THE AMERICAN BIBLE CHALLENGE.
THE AMERICAN BIBLE CHALLENGE garnered the network's highest delivery in its 18-year history with 1.7 million total viewers for its August 23, 2012 series premiere. Factoring in the encore airing, the premiere episode was watched by over 2 million viewers. The second season premiered on March 21, 2013 and built upon the success of season one with year-to-year increases of +34% W18-49 and +17% W25-54. THE AMERICAN BIBLE CHALLENGE has now been seen by over 21 million viewers.
THE AMERICAN BIBLE CHALLENGE is produced by Relativity Television for GSN, with Relativity Television's Tom Forman ("Extreme Makeover: Home Edition") serving as Executive Producer. Barry Poznick ("Are You Smarter Than a Fifth Grader," "Lingo) also serves as Executive Producer. Nick Stuart and Maura Dunbar of Odyssey Networks are Consulting Producers. Odyssey Networks is the country's largest multi-faith coalition dedicated to producing and distributing media that creates understanding among people of different beliefs and perspectives. Jeff Foxworthy also serves as Producer. Embassy Row's Michael Davies as well as Parallel Entertainment's J.P. Williams and Jennifer Novak serve as Executive Producers.
About RealativityREAL
Under the leadership of award-winning producer Tom Forman ("Extreme Makeover: Home Edition," "Kid Nation,") Relativity's television arm launched in June 2008. The division has quickly become one of the country's largest suppliers of unscripted television. RelativityREAL currently has 70 projects in active production, including 17 original series. In addition, the division is developing a slate of scripted sitcoms, dramas, and sketch comedy series to be released in the upcoming year. RelativityREAL's executive ranks are bolstered by overall production deals with TV veterans Jay Blumenfield and Tony Marsh, Ashley Tisdale's Blondie Girl Productions, executive producer Ellen Rakieten ("The Oprah Winfrey Show"), Ray Ricord, Bogner Entertainment and This Is Just A Test Productions.
About GSN
GSN is a multimedia entertainment company that offers original and classic game programming and competitive entertainment via its 80-million subscriber television network and digital game sites. GSN's cross-platform content gives game lovers the opportunity to win cash and prizes, through GSN's popular TV game shows and GSN Games' free casual games, mobile and social games, and skill-game tournaments. GSN's television network is distributed throughout the U.S., Caribbean and Canada by all major cable operators, satellite providers and telcos. GSN is owned by Sony Pictures Entertainment and DIRECTV. For further information, please visit GSNTV.com.
###
For more info on Kirk Franklin visit the JFH Artists Database.