Lauren Daigle New Single "How Can It Be" Breaking at Radio
No. 2 New and Active at AC Radio and Debuts No. 42 on NCA Chart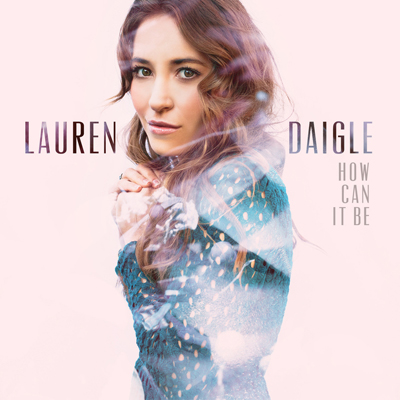 NEWS SOURCE: Bozeman Media
July 29, 2014
Nashville, TN (July 29, 2014) ----- Centricity Music's newest artist, Lauren Daigle, is living up to the high expectations for her new single, "How Can It Be." The song is currently No. 2 New and Active on both of Billboard's AC charts and No. 42 on the NCA chart. It's a strong list of stations playing the single, including such powerhouses as; KSBJ/Houston, TX, KLTY/Dallas, TX, SOS Network/Las Vegas, NV, JOY FM Network/Sarasota, FL and Atlanta, GA, WONU/Tulsa, OK, WBSN/New Orleans, LA, WDTC/Birmingham, AL and WHPZ/South Bend, IN. The song is available on iTunes and Amazon. "How Can It Be" is resonating with Christian music fans online, "love her voice," "Lauren is a total inspiration," "simply beautiful," "this woman's music has been used by God to guide me thru grief, loss, restoration, and newness."
"I hope this song gives you a glimpse of the magnificent grace lavished upon us through our infinite Savior!," says Daigle. "'Grace' can be a word that has lost its fervency through overuse, but when we take our hearts to the sand where Jesus wrote before the religious and the sinner, we can see that 'grace' has the power to reshape humanity."
"How Can It Be" is the first single and title track from Daigle's upcoming five-song EP How Can It Be that releases September 16th. Daigle will be performing her new music this fall with Aaron Shust's Morning Rises Fall Tour, which also features Mikeschair and Nathan Tasker.
For more information about Daigle please visit online www.laurendaigle.com, at Facebook, www.facebook.com/laurendaiglemusic and Twitter, @Lauren_Daigle.
About Centricity Music
Centricity was founded in 2005 with a commitment to artist development and stylistic diversity. Based in Franklin TN, artists include Aaron Shust, Andrew Peterson, Carrollton, Jason Gray, Jonny Diaz, Lauren Daigle, Lindsay McCaul and Unspoken. The company's mission is to enable their artists to create life-changing experiences for the world. Providing label, management and publishing services, Centricity is a family owned organization and they like it that way. For more information on Centricity Music, please visit: www.centricitymusic.com.
###
For more info on Lauren Daigle visit the JFH Artists Database.