DOVE AWARD WINNER CHERI KEAGGY SETS SAIL TO THE VIRGIN ISLANDS ON THE 2015 WIT & WISDOM CRUISE
Popular Singer/Songwriter and Speaker Joins Dr. Kevin Leman, Dr. Luis Palau and Comedian Dennis Swanberg On Seven-Day Voyage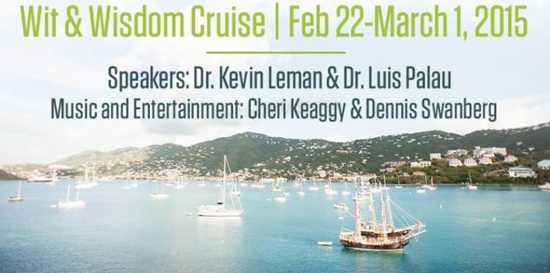 NEWS SOURCE: McCain & Co. PR
July 30, 2014
NASHVILLE, Tenn. (July 30, 2014) - Dove Award-winning singer/songwriter and speaker Cheri Keaggy will provide music on the upcoming Wit & Wisdom Cruise, along with New York Times best-selling author Dr. Kevin Leman, international speaker and author Dr. Luis Palau and comedian Dennis Swanberg. The cruise, scheduled to set sail February 22 through March 1, 2015, will depart from Ft. Lauderdale on a seven-day Eastern Caribbean journey to the Virgin Islands.
"I can't wait to go cruising next year," Keaggy says. "I've sailed with Kevin (Leman) and his wife before and look forward to being with them again. What a blessing to glean from their years of experience in ministry and sit under the teachings of Dr. Luis Palau as well. Besides the places we port, one of my favorite parts about cruising is the fellowship that takes place during meal times and our group sessions. It can be as rich as the food we eat!"
"We are thrilled to have Cheri join us on the 2015 Wit & Wisdom Cruise," says Leman. "I'm a big fan of her music and an even bigger fan of Cheri as a person. I know that all of the people joining us on this cruise will be blessed by her music and ministry."
In addition to the picturesque stops at St. Maarten, St. Thomas and Princess Cays, guests will have the opportunity to participate in teaching sessions by Leman and Palau and be entertained by Keaggy and Swanberg.
Guests who book their travel aboard the cruise by August 1 will be eligible to receive a $100 early bird discount. For details about the special and for more information about the cruise, visit wit&wisdomcruise.com.
Keaggy is currently touring in support of her CD, So I Can Tell, as well as speaking throughout the U.S., particularly to women's groups.
For more information about Keaggy and So I Can Tell, visit cherikeaggy.com.
About Cheri Keaggy:
Cheri Keaggy began her career as a worship leader at a small church in Southern California before recording her debut album on Sparrow Records, Child of the Father, in 1994. Honored with a Dove Award nomination for New Artist of the Year, Keaggy has gone on to record seven additional albums, resulting in nine No. 1 songs, three Dove Award nominations and a Dove Award win. After more than two decades in music, her ministry has expanded to include speaking engagements as well. Keaggy's latest release, So I Can Tell, which was released in 2012 on her Psalm 91 record label, is Keaggy's first CD since her independent 2007 release, Because He First Loved Us.
Under the guidance of Gospel Music Hall of Famer and legendary guitarist Phil Keaggy, Cheri Keaggy called on the combined talents of Scott Dente and Ken Lewis from Global Genius Productions to produce So I Can Tell. The combination of rich, acoustic sounds with Cheri Keaggy's signature plaintive vocals and searingly honest lyrics has resulted in a project that confronts life's realities, even when filled with despair, and offers listeners the way to navigate through the challenges to a place of hope through Christ.
For more information about Keaggy and So I Can Tell, visit cherikeaggy.com. Like Keaggy on Facebook (facebook.com/CheriKeaggy) or follow her on Twitter (@cherikeaggy).
###