SMALLTOWN POETS RETURNS WITH PLEDGE MUSIC CAMPAIGN FOR NEW CHRISTMAS RECORD
Original band members in the studio together for the first time in 16 years to create "Christmas Time Again"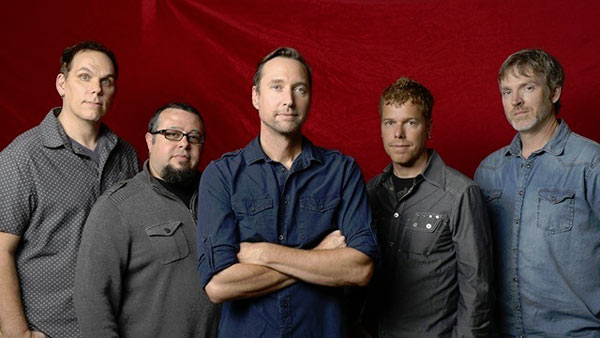 NEWS SOURCE: Biscuit PR
September 2, 2014
Atlanta, GA - Smalltown Poets has always been a band dedicated to their consistent, growing fanbase. Even though they have only recorded studio albums every few years, and had band members scattered across the country, Smalltown Poets has stayed consistent, releasing inspiring, hook-filled rock and pop songs that remain current years after release.
Now, for the first time since 1998, all of the original members of the band have been able to record together in the studio. All five members traveled to Atlanta, GA., to work on a new Christmas project, titled "Christmas Time Again" set for release November 25, 2014.
"Through the miracles of modern technology and recording, we have been able to still create music as a band, even though the 5 of us all live in different cities across the country," states Michael Johnston, lead vocalist. "This opportunity to all come back together to record has been an amazing experience. It felt a lot like coming home."
Despite the Georgia heat and humidity, the Christmas spirit has been alive and well in the studio, as recording the album truly was a reunion for the band. "Almost immediately, we fell back into place musically. From picking out songs to arrangements to performance, it seems as if we never stopped touring and living in the same areas," explains Danny Stephens, keyboardist for the band.
After the success of the bands debut Christmas project "Smalltown Poets Christmas" in 2011, a second holiday album was a welcomed concept. Filled with traditional holiday carols, favorite songs and a few originals, this upcoming project is shaping up to be a refreshing addition to any Christmas music catalog.
Through PledgeMusic, supporters of Smalltown Poets can receive unique and exclusive offerings, including music, merchandise, autographed drumsticks, and even a Christmas card from the band. All supporters will receive the album several weeks ahead of the official release.
Always concerned about making a positive impact on the world, Smalltown Poets has committed to donate 5% of funds raised after their goal to World Vision. The band has partnered with this humanitarian organization for nearly a decade, raising funds and awareness for extreme poverty and hunger worldwide.
Recently, Smalltown Poets has received some additional attention, with their version of the song "You Are My All In All" being the top track of the soundtrack to the documentary film Sing Over Me. The Sing Over Me soundtrack is available in stores today.
Formed in 1996, Smalltown Poets is made up of high school friends Michael Johnston, Danny Stephens and Byron Goggin, along with Nashville musicians Kevin Breuner and Miguel DeJesus. Quickly, the band received accolades from both critics and fans alike, with numerous Top 5 radio hits, including the song "If You Let Me Love You" that went to #1 on the Billboard CHR radio charts, and "Monkey's Paw" hitting #1 on Christian Rock Radio. Now, after 6 studio albums, 2 Grammy nominations, 7 Dove Award nominations and a Billboard Music Video Award, this Christmas project has brought the band together as never before.
Michael continues, "We have realized that Smalltown Poets really is a brotherhood, so this reunion has felt incredibly special. We're better husbands, dads, friends and musicians because of one another. We are more than Smalltown Poets the band now; we are Smalltown Poets family. We are delighted to bring this deeper, richer purpose to the recording process. To be together feels like home after an extended trip away."
http://www.pledgemusic.com/projects/smalltownpoets
http://www.smalltownpoets.tv
- ### -
For more info on Smalltown Poets visit the JFH Artists Database.