Danny Gokey Celebrates No. 1 Single and CD "Hope In Front of Me"
At Post-Dove Awards Bash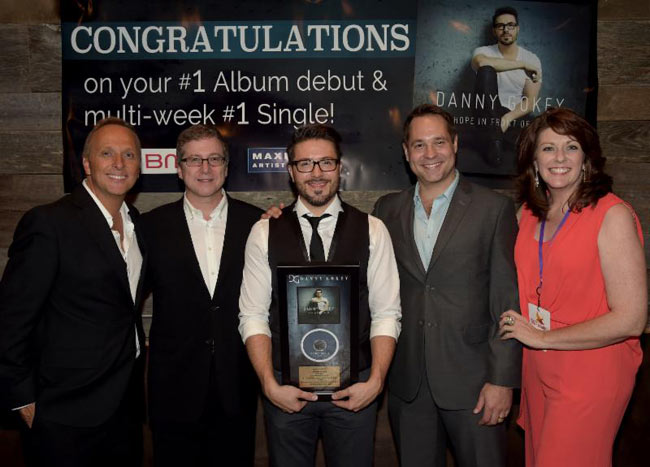 (Photo by Rick Diamond/Getty Images. Left to right: Mitchell Solarek, Richard Blackstone, Danny Gokey, Jason Hradil, Penny Railey)
NEWS SOURCE: TKO Marketing
October 9, 2014
NASHVILLE, Tenn. (October 9, 2014) BMG Recording Artist Danny Gokey celebrated his chart-topping hit "Hope In Front of Me" at a surprise No. 1 bash following the Dove Awards. Gathering with family, friends and his team of industry leaders, Gokey was feted with speeches by BMG executives, industry VIPs and radio. To commemorate the event, he received a No. 1 plaque for his single, which spent four weeks on the top of the Christian radio chart, and for his album, which debuted at No. 1 on multiple Billboard Christian charts.
"This is an incredible surprise; to be surrounded by my team, family and friends and to receive this recognition, it's full-circle," Gokey elated. "It's been a journey through writing and creating the music, hitting the road visiting radio stations across the country, and seeing the positive response of fans going to stores and iTunes to purchase and support this record. I am grateful for the success of the album and single, and can't wait to see what is next."
"Danny is one of the most honest representations of talent, strength, courage, generosity, and faith," said Richard Blackstone, who runs the Artist Services division of BMG, North America. "This song is a brilliantly created jewel, the message of which is resonating with people around the world. This song touches upon a timeless message and thus it will be around for many years to come."
"Hope In Front of Me" released in February of this year. In July, it landed at No. 16 on the chart. The track broke the top 10 at No. 6 three weeks later. After nearly 30 weeks on the chart, "Hope In Front of Me" made the remarkable journey to the No. 1 spot, where it remained for four weeks. "Hope in Front of Me" is penned by co-writing trio Gokey, Bernie Herms, and Brett James. Herms also produced the chart-topping track. The album debuted at the No. 1 spot on multiple Nielsen SoundScan Billboard Contemporary Christian music sales charts. The album is produced by Herms (Natalie Grant, Casting Crowns, Barbra Streisand, Andrea Bocelli), Keith Thomas (Amy Grant, Blake Shelton, Chris Mann, BeBe & CeCe Winans, Heather Headley), and Josh Crosby (Cher, Owl City, Mat Kearney.)
Get Hope In Front Of Me:
iTunes- http://smarturl.it/GokeyiTunes
Amazon- http://smarturl.it/DGokeyAmazonCD
ABOUT DANNY GOKEY:
An acclaimed singer and author, Danny Gokey made an indelible first impression with 2010's record-breaking debut album, "MY BEST DAYS" with the best opening week for a debut album from a male country artist in almost two decades. He received an array of honors, including his home state's WAMI (Wisconsin Area Music Industry) Award for "Male Vocalist of the Year" as well as an American Country Awards nomination as "New/Breakthrough Artist of the Year." Gokey's sophomore album HOPE IN FRONT OF ME debuted at No. 1 on multiple Nielsen SoundScan Billboard Contemporary Christian music sales charts and is available wherever music is sold. Gokey is also active on many other fronts, including his role as founder of Sophia's Heart. Named in honor of his late wife, the organization's goals are to provide hope and help to homeless families in Nashville, and they also operate a thriving inner-city music and arts program in Milwaukee, WI. Opened in late 2011, the 77,000 square foot Sophia's Heart facility in Nashville has helped rescue over 75 families from life on the street. For details, please see www.sophiasheart.org.
For more, please see:
www.dannygokey.com
https://twitter.com/dannygokey
www.facebook.com/DannyGokeyOfficial
http://instagram/dannygokey
www.youtube.com/DannyGokey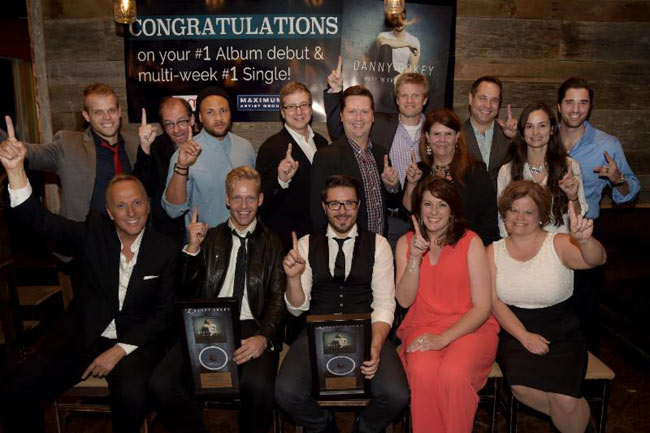 (Photo by Rick Diamond/Getty Images. Seated: Mitchell Solarek, Bernie Herms, Danny Gokey, Penny Railey and Carol Roundtree. Standing: Matt Ingle, Chris Hauser, Josh Crosby, Richard Blackstone, John Allen, Kos Weaver, Linda Klosterman, Jason Hradil, Chelsey Dickson and Kevin Lee.)