ERICA CAMPBELL EARNS 10 STELLAR AWARD NOMINATIONS
FOR SOLO DEBUT ALBUM HELP
Campbell Among Top Nominee Getters, Nods Include
CD of the Year, Artist of the Year Song of the Year & Female Vocalist of the Year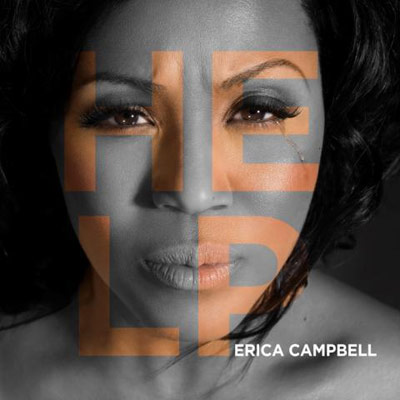 NEWS SOURCE: Ignition PR
January 13, 2015
January 13, 2015 (New York, NY) - Coming off the heels of recent Grammy Award and NAACP Image Award nominations, Erica Campbell continues to reach new heights with her solo debut album, HELP, receiving 10 Stellar Award nominations this year.
Nominations were announced earlier today and Campbell received the most nods by a female artist this year including Artist of the Year, CD of the Year, Contemporary CD of the Year, Female Vocalist of the Year and Contemporary Female Vocalist of the Year.
The hit title song "Help," earned nominations for Song of the Year and Urban/Inspirational/Instrumental Song of the Year. The album's executive producer, Warryn Campbell, gained a nod for Producer of the Year, while the project received nominations for Music Video of the Year and Recorded Music Packaging of the Year.
"I am grateful to the Stellar Awards for this great honor and for the consideration. I am overwhelmed by the faithfulness of God, as I never anticipated this. Initially I thought that I was going to release one single as a solo artist and that be the extent of it. But to see how far God has brought us is truly amazing ... I'm so humbled and happy that people are being blessed by the music," said Campbell.
The 30th Annual Stellar Awards will be taped March 28th in Las Vegas, NV and will be televised nationally on TV One Network on Easter Sunday, April 5th.
Campbell has a busy new year planned. In addition to the premiere of season 4 of her hit TV show, "Mary Mary" on WE tv in March, Campbell will release HELP 2.0, a deluxe version of HELP that will include remixes of her hit songs as well as all-new songs. Campbell also has plans for a national tour that will kick off in May.
HELP was released last year to both critical and consumer acclaim and remains among the top selling Gospel albums this year. Last year, Campbell won a Dove Award and Soul Train Award for HELP in addition to receiving two Grammy nominations and two NAACP Image Award nominations. Upon its release, the album debuted at number 1 on multiple Billboard charts and remained at Number 1 on the Billboard Top Gospel chart for several weeks.
- ### -