KB UNVEILS LYRIC VIDEO FOR FIRST SINGLE, "SIDEWAYS" FEATURING LABEL MATE LECRAE FROM UPCOMING SOPHOMORE ALBUM,
TOMORROW WE LIVE
Pre-Order For New Album Begins March 10 on Digital Platforms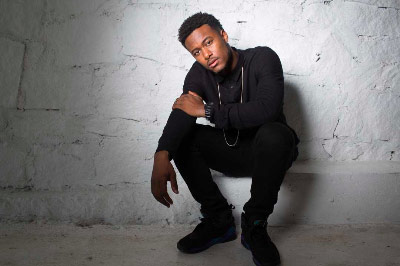 NEWS SOURCE: Sundari PR
February 23, 2015
Dove Award winning hip-hop artist KB released a brand new lyric video for his debut single "Sideways," off of his highly anticipated release Tomorrow We Live, set to drop on April 21. Watch the video below or follow this link to YouTube: http://bit.ly/KBSideways
Produced by team 'Cobra' and written by Kevin Burgess, Lecrae Moore, Jamal James, Chris Mackey and Joseph Prielozny, "Sideways" also features label mate and two-time Grammy Award winning rapper Lecrae.
"'Sideways' came from a place of being young and finding myself being profiled and expected to be a certain way," explains KB. "Then when people meet me, they find out I am different than what they expected: I do hip-hop, have a degree in Theology, am serious about God, got married at 22, and it just doesn't make sense to people, they tend to look at me sideways. Also, when you are sideways you have to be supported by something else, and for me I am supported by my God. So with this song, I want to invite people to embrace the strange/normal that God made them to be."
KB hopes to encourage those who listen to his record and letting them know that one day the battle will end and Tomorrow We Live.
"Sideways" and the entire sophomore album will be available to pre-order on iTunes and other major digital platforms starting on March 10.
For more information on KB and the new album, please visit www.whoiskb.com.
Twitter: @KB_HGA
Facebook: www.facebook.com/KB116
#tomorrowwelive
About KB:
KB has a history of success with his previous EP 100 landing the No. 1 spot on Billboard's Christian Album Chart, No. 4 on Billboard's Rap Chart and respectfully at No. 22 on Billboard's coveted Top 200 Album Chart. Additionally, he took home his first Dove Award last year for "Rap/Hip-Hop Song of the Year" for the EP, and has been a Recording Academy featured artist on Grammy.com. He has received critical acclaim from his peers and media such as Billboard Magazine and The Blaze and has toured nationally with Tenth Avenue North and is currently touring with Trip Lee for the "Rise Tour."
- ### -
For more info on KB visit the JFH Artists Database.