FIREFLIGHT SINGLE "SAFETY (FEAT. STEPHEN CHRISTIAN)" FROM INNOVA RETURNS TO TOP OF RADIO CHART, RECEIVES DOVE NOMINATION
DOWNLOAD
The Single FREE on Jesusfreakhideout.com's new indie compilation!
30+ City "Small Town America Tour 2015" Featuring Fireflight Launches Aug. 22
Drummer Adam McMillion Steps Down From Band After 4 Years
Fireflight's Glenn, Wendy Adopting Child From Ethiopia
Through 5000th Show Hope Grant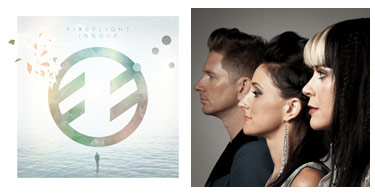 NEWS SOURCE: Hoganson Media
August 17, 2015
GRAMMY-nominated, Dove Award-winning Fireflight continues to chart its own course to both fan and industry acclaim with its indie release, INNOVA. Last week, the music industry honored the band with its seventh Dove Award nomination as radio programmers re-launch "Safety (Feat. Stephen Christian)" from INNOVA back to the top of the rock charts. Music fans are also showing up in droves to see the band live at events this summer.
Remarkably, after first topping the Billboard Christian Rock chart the week of May 11 and never falling out of the Top 5, "Safety," featuring ANBERLIN's Stephen Christian, is again No. 1 on the chart for the second consecutive week and fourth week overall. The song has further received a nod from the Gospel Music Association, receiving a "Rock Song Of The Year" Dove Award nomination. The song is the second No. 1 from INNOVA, following lead single "Resuscitate" to become the ninth overall No. 1 hit for the band.
"Even when people let us down, we can find our safety in God," shares Fireflight lead singer Dawn Michele, citing Psalm 46:1-3 as the inspiration for "Safety." "He is our ever present help in times of trouble, and we can be His hands and feet here on earth to others who are hurting."
Taking the new songs and fan favorites on the road, Fireflight has connected with thousands of fans over this summer's festival season. Beginning Aug. 22 in Stigler, OK, the band continues its trek across the US, co-headlining the 30+ city, fifth annual "Small Town America Tour 2015" with Seventh Day Slumber. Special guests Shonlock and Scarlet White join the tour, which runs through Nov. 8 and is sponsored by ChildFund International. (See the current "Small Town America Tour" dates below.)
Following this tour, Fireflight returns to Europe for a series of events, including concerts in Rogaland, Norway (Nov. 13) and Turku, Finland (Nov. 14).
In advance of the upcoming tours, Fireflight cofounders Dawn Michele (vocals), Wendy Drennen (bass, backing vocals) and Glenn Drennen (guitar) also announce the departure of Adam McMillion, drummer since 2011. While McMillion will continue to guest drum for artists, he's planning to spend more time at home with his family.
"We could not think or speak any more highly of a person than we do of Adam," says Fireflight's Dawn, Wendy and Glenn collectively. "He is a one of the most amazing people that we have ever had the pleasure of working with. Even though we are sad to see him move on, we fully support Adam in every way and wish him the upmost success in everything he endeavors to do!"
Saying goodbye to one member of the band, late last month the Drennen's announced through Show Hope that they are planning to add another member to their family. In addition to their biological son, four-year-old Phoenix, the couple is in the process of adopting a young boy from Ethiopia. The child is the recipient of the 5000th grant from Show Hope, a nonprofit organization founded by Steven Curtis Chapman and his wife Mary Beth for the purpose of caring and advocating for millions of orphans worldwide.
"We had no idea what a lengthy process we'd started when we began our adoption journey two and a half years ago," Glenn and Wendy Drennen said in Show Hope's announcement. "After a lot of changes within the Ethiopian government, we're looking at another year or two before we'll be a family of four. That's been hard, but receiving this grant in the middle of our time of waiting has been a ray of light that reminds us that God is in control of our family and our second son."
For more information on Fireflight and INNOVA, as well as its touring, go to www.Fireflightrock.com, @Fireflightrock, instagram.com/Fireflightrock, www.youtube.com/user/Fireflightrock and www.facebook.com/Fireflightrock, where the band has more than 455,000 likes.
About Fireflight:
Fireflight built a fiercely devoted following across four albums pushed through the major label system, including The Healing Of Harms, Unbreakable, For Those Who Wait (which cracked Billboard's Top 100) and the No. 1 Christian Rock Album, Now, which surfaced in Spring 2012. With a Grammy nomination, 13 million views on VEVO, nine No. 1 songs and nearly 400,000 albums sold, Fireflight's 5th full-length album, INNOVA, celebrates the 15th year of the band. Released independently though The Fuel Music May 5, the album utilizes the innovative tools available to established bands in 2015 for a modern take on a timeless alt-rock sound.
Launched by a bevy of fans through a PledgeMusic, crowd-funding campaign that hit 125% of its goal, and crafted during a season of pain, uncertainty and frustration, INNOVA broadens Fireflight's sound to exhilarating new heights without losing the core personal connection to their past. Fans enamored by Imagine Dragons, Ellie Goulding, Katy Perry and the more adventurous post-Britpop of Coldplay, will all be invigorated by Fireflight's new album.
Small Town America Tour 2015 events:
Aug 22 Stigler, OK
Aug 27 Snowflake, AZ
Aug 28 Gallup, NM
Aug 29 Mesa, AZ
Aug 30 Tempe, AZ
Sep 02 Rio Rancho, NM
Sep 04 Dallas, TX (tentative)
Sep 06 Granbury, TX
Sep 12 Lufkin, TX
Sep 13 Seminole, OK
Sep 17 Jasper, AL
Sep 19 Vidalia, GA
Sep 20 Lincolnton, NC
Sep 25 Chicago (Oswego, IL)
Sep 26 Tomah, WI
Sep 30 Williamston, NC
Oct 01 Mechanicsville, VA
Oct 02 Wilmington, DE
Oct 03 Brockton, MA
Oct 04 Carlisle, PA
Oct 14 Chadron, NE
Oct 15 Hastings, NE
Oct 16 Sioux Falls, SD
Oct 17 Ames, IA
Oct 18 Bettendorf, IA
Oct 23 De Land, FL
Oct 24 Kissimmee, FL
Oct 29 Salina, KS
Oct 30 St Louis, MO (Montgomery City, MO)
Oct 31 Alva, OK
Nov 01 Plainville, KS
Nov 02 Fort Smith, AR
Nov 06 Pekin, IL
Nov 07 Vinton, IA
* Additional tour dates may be added, and all tour dates are subject to change
###
For more info on Fireflight visit the JFH Artists Database.