DJ Kirk Signs To DRÍM And Begins Pre-Orders For EP, Awakening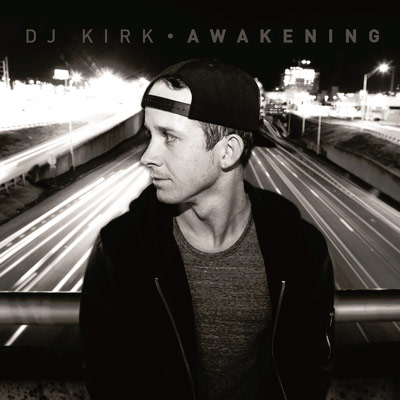 NEWS SOURCE: DREAM Records
May 9, 2016
Los Angeles, CA (May, 2016) -- DRÍM is proud to announce the signing of DJ Kirk to it's growing roster. After getting the attention of producer, David Thulin, the Minnesota native started working on songs together at David's studio in Nashville. What came out was a masterful EP of electronic dance music that will surely catapult DJ Kirk to a new level.
"It was a huge honor to be working with someone of David Thulin's caliber; what came out of that week was five electronic infused tracks that speaks of my journey as an artist... I'm beyond excited to take this album and my career to the next level with DRÍM." - DJ Kirk
Awakening is the first studio album on DRÍM. It was produced by David Thulin and features Emily Fertig of SHINEBRIGHT, David Thulin and Unikron from We Are Leo. Fans can now pre-order the digital album on iTunes or the physical album on MoolooMarket.com and receive "Stories (feat. Unikron)" for free. Pre-order Awakening via text as well by texting "DJKirk" to 51555.
Listen to his new song, "Stories (feat. Unikron)":
Awakening track listing:
1. Awakening
2. Find My Way (feat. David Thulin)
3. Here To Stay (feat. Emily of SHINEBRIGHT)
4. Tazer
5. Stories (feat. Unikron)
For more information about DJ Kirk go to: www.DreamLabelGroup.com and www.IAmDJKirk.com
ABOUT DJ KIRK:
DJ Kirk got his start working as a DJ in nightclubs, and as an on-air talent at Hot 97.5 Radio in Bismarck, ND. He was quickly recognized for his production, improvisation, live remixes, and high energy. Although he was emerging to become one of the leading DJ's in the Midwest, Kirk felt a calling to minister with his music and testimony, and left the bar scene to DJ full time for Christian recording artists and events. Adding youth groups, church conferences, high school conventions, festivals, weddings, sporting events, and concerts to his resume, Kirk blended hot music with God's word and has emerged as one the leading Christian event DJ's in the US. DJ Kirk is set to release his latest EP, The Awakening, in May 2016. DJ Kirk is available to DJ and host live events year-round.
ABOUT DRÍM
The story of DRÍM is one built in a pure passion and love for EDM music for years. Founded by Lance Brown and Dave Hanley, DRÍM (which is Swedish for "DREAM") launched in early 2014. Creating it's own sub-culture and signing premiere talent out (Matthew Parker, David Thulin and Unikron), DRÍM is forging ahead with great dance music for everybody to listen to. Connect with their official YouTube channel.
###