KB ANNOUNCES NEW TOUR DATES KICKING OFF SEPTEMBER 7
CELEBRATES BY RELEASING BRAND NEW SINGLE "TEMPO" ON AUGUST 5
We Set The Tempo Tour (Headliner), Sept. 7 - Sept. 29
for King & Country Tour (Special Guest), Oct. 3 - Nov. 6
View/Share "Tempo" Video:
http://reach.cta.gs/026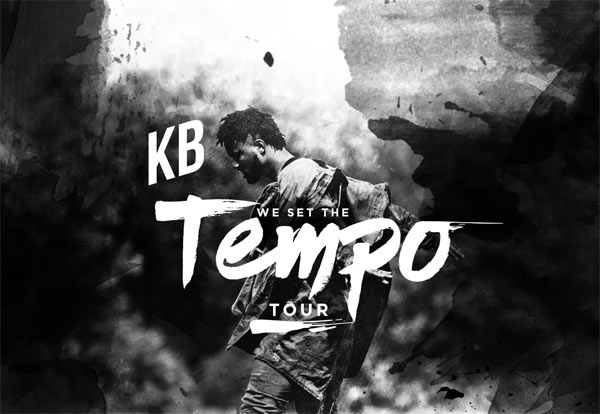 NEWS SOURCE: Reach Records
August 3, 2016
(Atlanta, GA - August 3, 2016) - Award-winning hip hop artist KB announces We Set The Tempo Tour, his headlining tour set to kick off September 7 in Pensacola, FL. The tour spans 13 cities and KB will be joined by Blanca, Tauren Wells and Joseph Solomon for support. Tickets are on sale for the public now at whoiskb.com/tempo.
To celebrate the tour announcement, KB is exciting fans with the release of his brand new single "Tempo." The first taste of new music since he released his Top 20 Billboard charting album Tomorrow We Live, KB explains what Tempo means to him: "We set our own tempo, and that tempo is set to the passions of God. We live beyond society norms and expectations, our cues come from much higher than that. Tempo is about focus and freedom. Focus on a higher calling and freedom from anything that can stop that vision!"
"Tempo" will be available for purchase and streaming across all DSPs on August 5 via Reach Records.
Along with We Set The Tempo Tour, KB will embark on for King & Country's Tour as a special guest this fall from October 3 to November 6. For more information on KB and a full listing of his upcoming tour dates visit whoiskb.com/#tour.
Twitter: KB_HGA
Facebook: KB116
Instagram: KB_HGA
Snapchat: KB_HGA
About KB: Kevin Burgess, better known now by his stage name KB, is a hip-hop artist based in Tampa, FL heading up HGA. He's found redemption in what was once the forbidden music of his youth. KB has a history of success, his EP 100 landed No. 1 on Billboard's Christian Album Chart and No. 4 on Billboard's Rap Chart. Additionally, he took home his first Dove Award for the title track "100" winning "Rap/Hip-Hop Song of the Year." His latest album, Tomorrow We Live, brought both critical acclaim and commercial success, debuting on the Billboard charts at No. 1 on Top Christian Albums, No. 4 on Top Rap Albums, and in No. 18 on the coveted Billboard 200. KB has been a Recording Academy featured artist on Grammy.com and has toured nationally with Tenth Avenue North and several Reach Records artists. He's received critical acclaim from his peers and media alike including Billboard Magazine, RapRadar.com and The Blaze.
###
For more info on KB visit the JFH Artists Database.