Bethel Music's Brian & Jenn Johnson To Unveil
After All These Years, First Solo Album Together
In More Than A Decade
80-piece orchestra intricately accompanies January 27 release, with every track cowritten by duo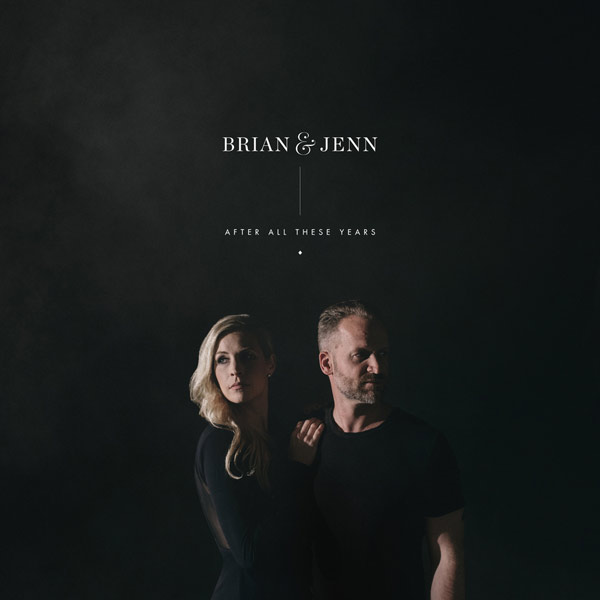 NEWS SOURCE: The M Collective
January 13, 2017
Nashville, Tenn. (Jan. 13, 2017) - More than 10 years since their last solo release, Bethel Music's Brian & Jenn Johnson will debut their highly anticipated album After All These Years on January 27, capturing the wonder, conviction, and tenderness of heart behind the story of who they've become and who they've remained over the past season. Cowriting every song on the album together, After All These Years varies stylistically from previous projects, as each track is marked by a distinct and bright 80-piece symphony orchestra paired with timeless lyrics and instrumentation.

Songwriting, leading worship and overseeing Bethel Church's Worship Department for over 15 years, the album marks the duo's third solo release to-date, following in the footsteps of live-worship albums Undone (2001) and We Believe (2006). After All These Years carries a message that the unseen history we build with God is the greatest treasure that sustains our lives personally, from generation to generation. Stirring great hope for worshippers, the album reminds us to cherish our own history with God and to empower us to build a legacy that will last.

"We wrote this album because of seasons that God has proved His faithfulness in," share the Johnsons. "This project is the overflow and expression of that. We hope it inspires you to go after all that God is asking you to do. We've watched our parents and grandparents do this, and they have handed down a model that has influenced how we live and how we are dreaming into the future. Community, family, and carrying His name - that is the kingdom - and that is for every believer."

Over the last 10 years, the couple has continued their active involvement in songwriting and worship leadership through Bethel Music. Penning anthems "One Thing Remains (Your Love Never Fails)," "Forever (We Sing Hallelujah)," "No Longer Slaves" and "Love Came Down," many of Brian's songs have ranked in the CCLI Top 100 chart. A veteran songwriter herself, Jenn's hit songs "God I Look to You," "Come to Me," "Chasing You," "For the Cross" and "In Over My Head" are sung worldwide.

After All These Years Tracklisting
1. Mention of Your Name
2. Only Jesus
3. Gravity
4. I Won't Forget
5. Mercy and Majesty
6. Here I Bow
7. Greater Than All Other Names
8. After All These Years
9. You're Gonna Be Ok
10. For the One

About Brian & Jenn Johnson
Brian & Jenn Johnson are co-founders of Bethel Music, WorshipU, and have been integral in the production of more than 15 albums that have influenced the culture of worship across the global church. They are committed to raising healthy family, cultivating community, and fostering unity among worship leaders from around the world. Brian & Jenn's newest solo album, After All These Years will release in January 2017. Brian facilitates an atmosphere of faith in worship and has written anthems such as "Have it All", "We Will Not Be Shaken" and "One Thing Remains," which was awarded No. 1 song for ASCAP Christian Music and No. 1 Radio Single in 2013. Known for her powerful vocals and unique prophetic sound, Jenn has authored songs such as, "In Over My Head", "Come To Me", "God I Look to You" and "O Taste and See." Together they are passionate about raising up worshippers who take hold of their true identity and pursue intimacy with God above all else. Brian and Jenn reside in Redding, California, with their three wonderful children.

Get Connected With Brian Johnson
Website // www.bethelmusic.com/artists/brian-johnson
Facebook // www.facebook.com/brianjohnsonm
Twitter // www.twitter.com/brianjohnsonM
Instagram // www.instagram.com/brianjohnsonm

Get Connected With Jenn Johnson
Website // www.bethelmusic.com/artists/jenn-johnson
Facebook // www.facebook.com/jenn.johnson.bethel
Twitter // www.twitter.com/jennjohnson20
Instagram // www.instagram.com/jennjohnson20


About Bethel Music
Bethel Music is a worship ministry that formed as an organic extension of Bethel Church in Redding, CA. Over the last seven years, Bethel Music has grown from being a local church music ministry to becoming a global outreach featuring a cadre of songwriters and worship leaders, 21 albums, chart-topping songs, a No. 1 on overall iTunes Albums chart, a Top 10 on Billboard Top Albums chart, four GMA Dove Awards, a GMA Covenant Award and both online and on-campus worship schools. In addition to Jonathan David and Melissa Helser, the Bethel Music Artist Collective includes Brian and Jenn Johnson, Jeremy Riddle, Steffany Gretzinger, Amanda Cook, Leeland, Matt Stinton, Hunter Thompson, Paul and Hannah McClure, Kalley Heiligenthal, Josh Baldwin, Cory Asbury and Kristene DiMarco. Together these artists have six acclaimed albums that all went to the top of Billboard's Top Christian Albums chart. Bethel Music's multi-artist double-disc live recording Have It All (2016) hit No. 1 on the overall iTunes Albums chart and No. 6 on the Billboard Top Albums chart, becoming Bethel Music's highest retail debut on the charts ever.

The heart of Bethel Music is to be a steward of the worship being created and released at Bethel Church, making it a resource available to the world. In addition to thousands of people that attend Bethel's weekly worship services, another 350,000 plus people subscribe to the online stream of the services at www.ibethel.tv. WorshipU, Bethel Church's online school of worship, features ongoing training programs underneath seasoned instructors, with tracks including worship leader, songwriter, sound engineer, team essentials, producing a song and worship fundamentals, available at www.worshipu.com. More about Bethel Music can be found at www.bethelmusic.com.

Get Connected With Bethel Music
Website // www.bethelmusic.com
Facebook // www.facebook.com/bethelmusic
Twitter // www.twitter.com/bethelmusic
Instagram // www.instagram.com/bethelmusic
YouTube // www.youtube.com/ibethelmusic

###