Texas-Based Singer Songwriter Micah Tyler Drops Different And Stirring, Personal Music Video
"Different" continues radio climb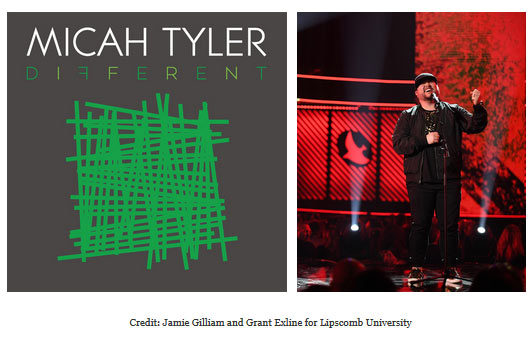 NEWS SOURCE: The M Collective
October 23, 2017
Nashville, Tenn. (Oct. 23, 2017) – Fresh from a performance and a New Artist of the Year nod at the 48th Annual GMA Dove Awards alongside a non-stop touring schedule with Big Daddy Weave and We Are Messengers, Micah Tyler released his first full-length album Different (Fair Trade Services) on Friday. Critics have noted Tyler's musical mark, sharing "Tyler proves he's an artist to watch as he emerges into his own lane with Different" (The Christian Beat) and "A great way to end a great year of music, Micah's music ought not to be missed if you are a fan of pop, acoustic, CCM…" (365 Days of Inspiring Media). The title track "Different" is currently in the top 10 on the National Christian Audience Chart, with over 60 stations on the song. Tyler just surprised fans by dropping a music video supporting the song.

"I wrote the song 'Different' a few years ago, but I feel like the Lord is teaching it to me in a whole new way right now," shares Tyler. "A few months ago, we found out that my grandmother has blood cancer. As hard as it's been to watch her lose her hair as she takes her treatments, her faith has remained intact. A few weeks later, Hurricane Harvey came for my hometown. In two days, 44 inches of rain poured on my house. As we're in the process of replacing the flooring and re-leveling our foundation, we keep waiting on things to get back to normal. Then just a few weeks ago, we found out that my little brother Daniel has stage four colon cancer. After the shock and the tears, my family is preparing to fight by his side as he gets ready to start chemo. In the midst of all this, the prayer that I kept praying was, 'Jesus, can you just change these things? Can you stop the cancer? Can you stop the storms?' But He's chosen not to stop these things just yet. I'm finding out that sometimes the best question is not, 'Jesus, can you change these things around me?' but rather, 'God, can you change me so that I can handle the things that you're walking me through?' So I keep singing and praying and believing the words of 'Different' because I know that He is changing me. That's making all the difference."
"Different" follows Tyler's previous success at radio with "Never Been A Moment" hitting no. 1 at radio on multiple charts. His performance of the hit aired last night on the 48th Annual GMA Dove Awards exclusively broadcasted on Trinity Broadcasting Network (TBN).

Tyler will continue his run of dates with Big Daddy Weave and We Are Messengers for the west coast-focused "Set Free Tour." For the latest touring information visit MicahTyler.com.

Different is available at iTunes, Apple Music, Amazon Music and Spotify.
About Micah Tyler:
Micah Tyler is a singer, songwriter and worship leader from Buna, Tex. signed to Fair Trade Services. Playing 200+ dates a year, Tyler has toured with MercyMe, Big Daddy Weave, Hawk Nelson, Phil Wickham, We Are Messengers and more. Tyler's newest EP Different (Nov. 2016) included the hit single "Never Been A Moment" which topped multiple radio charts. After having served as a youth pastor for over a decade, Tyler has a true love and respect for the local church. His newly-released, second single "Different" is also the title track from his current album.

Get Connected With Micah Tyler:
Website // www.micahtyler.com
Facebook // www.facebook.com/officialmicahtyler
Twitter // www.twitter.com/micahtylermusic
Instagram // www.instagram.com/micahtylermusic
YouTube // www.youtube.com/channel/UCVJGdiklilYCzNSFUMtxyyQ
Spotify // http://smarturl.it/MicahSpotify
###
For more info on Micah Tyler, visit the JFH Artists Database.