ELECTRICALLY CHARGED DUO FF5 RELEASE EL COMPADRE ACROSS ALL STREAMING PLATFORMS (3/2)
Following Exclusive Streaming Premiere With Billboard.com

Set to Bring High Energy Shows to SXSW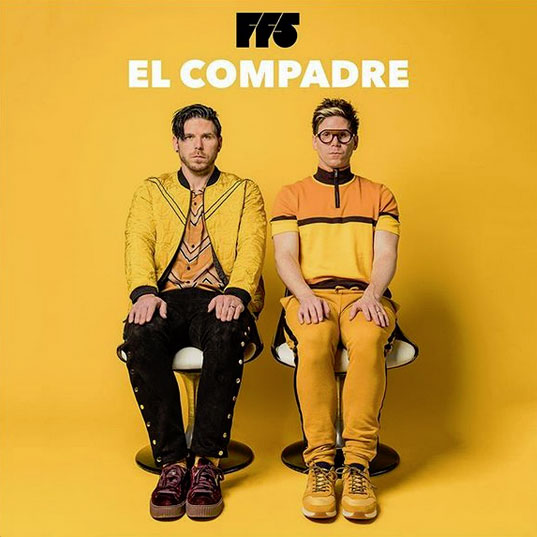 NEWS SOURCE: Crowd Surf PR
March 2, 2018
Nashville, Tenn. (March 2, 2018) - Curb Records' twin brother pop duo FF5 release their highly anticipated EP EL COMPADRE today - available now on all streaming platforms following the exclusive streaming premiere on Billboard.com yesterday (3/1). EL COMPADRE includes red-hot new single "Fire On the Highway," which was featured on Spotify's "New Music Friday" playlist and garnered over 200K streams in its first 10 days. Adding to the excitement, the duo, comprised of twin brothers Jacob and Josh Olds, is set to perform a number of high profile shows at SXSW in Austin, TX including: Maggie Mae's (3/14), The Chuggin' Monkey (3/14), Dirty Dog Bar (3/15), and Tiniest Bar in Texas (3/17).
EL COMPADRE is available on iTunes and Spotify.
After a decade long career as Family Force 5, the brothers are looking forward to the fans finally hearing their new EP and beginning the new era of FF5. "We set out on this journey to write something that would allow the music to speak for itself and stand alone," shared Jacob. "We embraced the beauty in mistakes and all the uphill battles we had to fight throughout our career. The music has a different energy than any other music we've ever put out."
Known for their infectious live shows and upbeat sound, Jacob and Josh Olds dive deep into their personal styles to create EL COMPADRE. Chock-full of 80s pop influences intertwined with raw rock'n'roll elements, the new tracks showcase FF5's new, elevated style.
The inspiration for the title, EL COMPADRE, comes from a familiar Los Angeles, CA eatery the brothers frequent. Jacob Olds shares, "El Compadre is a Mexican restaurant we eat at in LA. It seems like every time we've eaten there, a milestone - good or bad - has happened in our career. It's been a constant for us. It also sums up Josh and my brotherhood: El Compadre is the friend that never gives up."
Check out a behind the scenes look of the making of EL COMPADRE here.
EL COMPADRE Tracklist
Out of This World
Sweatband
Fire on the Highway
Nearsighted
Stardust
Tiger Night
*Bonus Track*
This is My Year - Matoma Remix
ABOUT FF5:
FF5 (Family Force 5) is the brainchild of twin brothers Jacob and Joshua Olds: two Atlanta-bred musicians with wildly divergent sensibilities and a shared passion for shattering boundaries. Although the Nashville-based duo have endured much upheaval over the years—label drama, lineup changes—FF5 now return with new music that proves their chemistry to be more potent than ever.
For more information on FF5, visit http://ff5music.com/.
Connect with them on Facebook, Twitter, Instagram or YouTube.
###
For more info on FF5, visit the JFH Artists Database.