2018 GRAMMY AWARD-WINNING CHRISTIAN MUSIC POWERHOUSE HILLSONG WORSHIP SETS RELEASE DATE FOR NEW ALBUM THERE IS MORE AND CONCURRENT 14-CITY U.S. TOUR
Pre-Order for the Next Full Length Album from the Multi-Platinum Selling
Billboard No. 1 Worship Team Available Today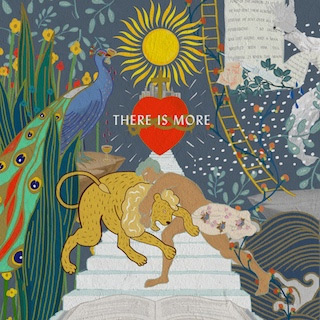 NEWS SOURCE: Rogers & Cowan
March 2, 2018
LOS ANGELES (March 2, 2018) — Today, the influential worship band behind the fastest-growing single in church history ("What A Beautiful Name"), Hillsong Worship, released a preorder link for their next full length album titled "There Is More," a 12-track passion-filled project including a new version of UNITED's "So Will I (100 Billion X)." Continuing to track an estimated 50 million people singing their catalogue of songs worldwide each week, Hillsong Worship's "There Is More" will hit the road this April, seeing 14 cities in North America with Hillsong Church's Senior Global Pastor, Brian Houston.
The album features brand new, original music from Hillsong Worship, including lead and tempo track "Who You Say I Am," a live-in-concert Taya Smith-led version of "So Will I (100 Billion X)," and signature ballads like "New Wine."
Hillsong Worship's Brooke Ligertwood said about There Is More, "There is more at stake than we dare realize— souls, communities, families, nations on the other side of our wrestle through the night seasons. Our personal freedom is for corporate revival. There is more of God, and more to God and His love than we can possible conceive of."
"There Is More" Complete Track Listing:
Who You Say I Am
You Are Life
The Passion
God So Loved
Be Still
Remembrance
Valentine
Touch of Heaven
Lettered Love
The Lord's Prayer
New Wine
So Will I (100 Billions X)
There_Is_More_Tour Dates, Cities and Tickets:
April 5 Austin, TX
April 6 Baton Rouge, LA
April 7 Dallas, TX
April 9 Memphis, TN
April 10 St. Louis, MO
April 12 Minneapolis, MN
April 13 Peoria, IL
April 14 Hoffman Estates, IL
April 17 Fort Wayne, IN
April 19 Canton, OH
April 20 Lynchburg, VA
April 21 Reading, PA
April 23 Boston, MA
April 24 Washington DC
With more than 20 million career album sales and over 1.5 billion career streams, the Australia-based team has helped shape praise and worship over the last two decades through its catalog of songs that continue to be sung by an estimated 50 million churchgoers worldwide each week.
"There Is More" is now available for pre-order on iTunes, Spotify and anywhere else music is digitally sold.
About Hillsong Worship: ?
With a catalog sung by an estimated 50 million people worldwide each week, Hillsong Worship is passionate about equipping and mobilizing believers everywhere with Christ-centered songs of God-glorifying worship for the building of the Church. For almost three decades Hillsong Worship has served people across nations and generations, travelling the world leading diverse expressions of the Church in the worship of Jesus. By God's grace its "local church" worship songs such as "Shout To The Lord," "Mighty To Save," "Hosanna," "Cornerstone," "Forever Reign," "Broken Vessels" and "This I Believe (The Creed)" have become the songs of churches all over the globe, in addition to finding a place in the personal devotion of individual believers everywhere. Their latest, Let There Be Light and What A Beautiful Name, EP are available now.
Website: hillsong.com/worship
Facebook: facebook.com/hillsongworship
Twitter: twitter.com/hillsongworship
Instagram: instagram.com/hillsongworship
YouTube: youtube.com/hillsongworship
###
For more info on Hillsong Worship, visit the JFH Artists Database.