"I've Never Needed A Song More…"
Dove Award Winning Songwriter Michael Farren Releases
New Single "Fighting For Us" March 9
"Fighting For Us" Is Title Track Of Farren's First-Ever
Solo Project Set For Summer Release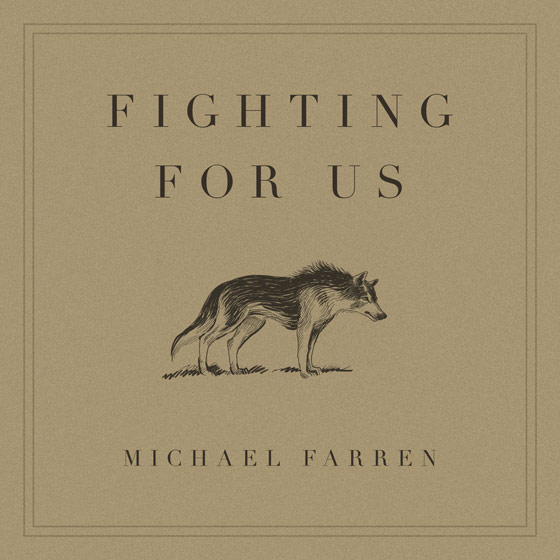 NEWS SOURCE: Integrity Music
March 7, 2018
Integrity Music announces the March 9 release of "Fighting For Us," a new single from Dove Award winning and GRAMMY Award nominated songwriter and Franklin, Tennessee-based worship leader Michael Farren. The song is the title track for a forthcoming album and first-ever solo project for Farren, the former frontman and founding member of the band Pocket Full Of Rocks.
Farren, the worship pastor for Gateway Franklin, is the writer behind some of Christian music's biggest songs across a variety of genres, from Lauren Daigle's "Trust In You" to Reba McEntire's "Sing It Now." For "Fighting For Us," Farren partnered with Dove Award winning writer Krissy Nordhoff ("Your Great Name") to pen a vertical anthem of praise that reminds listeners of the conquering, miraculous love of the Father.
"We wrote 'Fighting For Us' while I was weeping at my desk," shares Farren. "Krissy and I were supposed to be working on another song but all I could get out that day was that… and I've never needed a song more."
"I'd been through a season where I was struggling, trying to follow what I believed God was asking me to do but getting nowhere and feeling defeated," he continues. "In 25 years of writing songs, I have never clung onto a song as my own… but this was different. This song was the thing that kept me believing that He loved me. I kept singing it until I believed it."
You won't hold back | When it comes to Your children
You fiercely defend us | 'Til we stand delivered
You're fighting for us…
How great the love | The furious love | Of the one true Father
"I hope it's a lifeline for others…to anyone who has ever wondered if they are seen or known by God," he adds. "It may come from a place of desperation, but we don't need to stay there."
The single's distinctive cover was chosen by Farren who says the image represents the "fiercely protective, family-driven" nature of the wolf. "Wolves howl to protect their territory, their pack and to call to lost wolves," he adds. "For me, it's a visual reminder of the furious, protective love of the Father."
The "Fighting For Us" single will be available through digital sales and streaming platforms beginning March 9 with song resources available through WeAreWorship.com and Integrity's ministry partners. News and updates for Farren's Fighting For Us album will follow.
Michael Farren is an ASCAP, SESAC and Dove Award winning songwriter and producer. His songs include "Trust In You" and "Come Alive [Dry Bones]" (Lauren Daigle), "I Am Blessed" (Karen Peck & New River), "Say Amen" (Finding Favour), "Every Time I Breathe" (Big Daddy Weave), "Let It Rain" (Michael W. Smith), "Sing It Now" (Reba McEntire) and "Let The Worshipers Arise" (Phillips Craig & Dean). His songs have also been recorded by Natalie Grant, Aaron Shust and Jaci Velasquez. Farren, who is the worship pastor for Gateway Franklin in Tennessee, is a member of the Kingdom Songs collective and a worship seminar instructor. For more information, visit MichaelFarren.com or follow him on Instagram and Twitter (@michaelfarren).
###