JJ WEEKS PERFORMS FACEBOOK LIVE BENEFIT CONCERT PRESENTED BY HOLT INTERNATIONAL FROM DOWNTOWN ATLANTA ROOFTOP MAY 10
This "Shout It From The Rooftops: A Night Of Hope!" Event
Will Accept Donations To Help Feed Children In Mongolia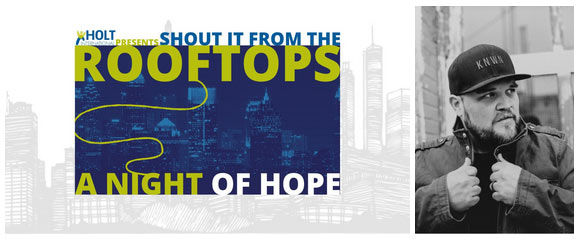 NEWS SOURCE: Hoganson Media
May 5, 2020
Renowned, Macon, GA-based singer-songwriter JJ Weeks and his band will play a full-length, full-band Facebook Live "Shout It From The Rooftops: A Night Of Hope" concert presented by Holt International May 10 beginning at 8:00 pm EDT.
A global online audience is invited to watch the event from www.facebook.com/jjweeksmusic or www.facebook.com/HoltInternational as it video-streams live from Ventanas' outdoor rooftop patio overlooking downtown Atlanta's Centennial Park District (CNN Center, Georgia Aquarium, World of Coca-Cola, Georgia World Congress Center, etc.). Weeks will also give permission to any person or organization wishing to crosspost the event, but an in-person audience will not be allowed due to COVID-19.
Along with "singing hope" over the city of Atlanta, this "Night Of Hope" will serve as a fundraiser for child hunger. People watching will have the opportunity to offer one-time gifts via a "text to give number" with funds designated for feeding children in Mongolia through Holt International.
"My heart broke for the children of Mongolia that I was able to visit last year with Holt International," says Weeks. "I knew I had to do something to help. It's an incredible privilege to be able to speak on behalf of these amazing kids!"
"The Coronavirus is being felt around the world, particularly for children and most vulnerable families, now at even greater risk than before. Around the world our life saving programs that serve these children are threatened as the social and economic impact continues to grow," said Eric Mason, Chief Marketing and Development Officer at Holt International. "JJ's been to Mongolia with Holt and knows first-hand the struggles of kids in need, and the impact a small gift can make on the life of a child. We're blessed to be partnering with JJ on his 'Night of Hope' and know it's going to bless not just those who tune in for his music, but kids in Mongolia and around the world too."
Leading his hit songs during the Facebook Live event, such as "Let Them See You," "Alive In Me," "What Kind Of Love" and "Rooftops," Weeks will also perform music from his acclaimed, 2020 EP The Sound Of Freedom. The new EP features the current radio single and CCM Magazine-premiered title track along with "Choices" and the hopeful anthem, "Days Like These."
"The first time I heard JJ Weeks riff that ol' sweet song 'Georgia (On My Mind),' I was hooked on his vocal authenticity," says Nik Curtis Beal, Music Director, WJTL Lancaster, PA. "I saw him live, bought the tee-shirt and bought into his brand. Over the years, his songs from 'Count Your Blessings' to 'Choices' have risen up the WJTL charts. His latest high-spirited track, 'The Sound of Freedom,' is a top contender for any song on the charts right now and moves up again to No. 8 on the WJTL Top 40 this weekend."
Co-written and produced by GRAMMY-nominated, two-time Dove Award-winning "Producer of the Year" Ian Eskelin, "The Sound of Freedom" has been heard nationally on radio stations like WJTL, as well as KYCC (Stockton, CA), WNFR (Flint, MI), WLJN (Traverse City, MI), WCTL (Erie, PA), KCVO (Columbia, MO) and more.
For all the latest JJ Weeks tour and music news, visit jjweeks.org, Facebook, Instagram, Spotify, Apple Music and YouTube.
About JJ Weeks:
Labeled a powerhouse voice intent on "making a difference in people's lives," singer-songwriter JJ Weeks formed the JJ Weeks Band in 2001. The band went on to release seven acclaimed, full-length albums that sparked the Billboard Top 10 radio hits "What Kind of Love" and "Let Them See You," as well as songs that have been featured on the official soundtracks for both the high-profile films God's Not Dead ("Save Us," 2014) and Four Blood Moons ("Is It Ever," 2015). Continuing his journey as a solo artist from his home base in Macon, GA, Weeks is writing new songs and will announce more new music slated for release this year.
About Holt International:
Founded in 1956, Holt International Children's Services is an organization dedicated to finding and supporting permanent, loving families for children who are orphaned, abandoned or separated from their families, or at serious risk of separation. Today, Holt is recognized as a leader in child welfare and permanency planning, providing services and advocating for the best interest of the child while upholding the highest ethical practices. Learn more about Holt International at holtinternational.org.
About Radiate Music:
Founded by Ian Eskelin, Radiate Music launched summer 2015. Eskelin's 20-plus-year resume in the music business, ranging from being a recording artist to a record executive, gives him a unique perspective in partnering with artists who are passionate about impacting culture with music. Eskelin, who has recorded more than 50 Top 10 singles in the United States alone, including 20 No. 1 songs, and whose songs have been licensed for use by ABC, NBC, CBS, ESPN and many feature films, is looking to break additional ground with Radiate. In addition to Weeks, Radiate's artist roster includes John Waller, Natasha Owens, About A Mile, Attaboy, Inspiration Worship, Pearl City Worship and Aaron Bucks.
###
For more info on JJ Weeks, visit the JFH Artists Database.