The Color Debuts New Single "Better Way"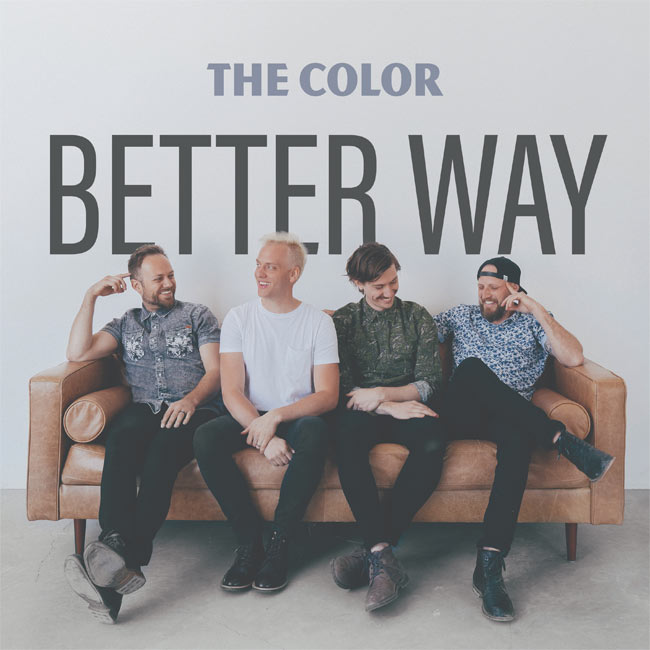 NEWS SOURCE: DREAM Records
June 25, 2021
Los Angeles, CA (June 25th, 2021) — The Color is proud to announce the release of their new single, "Better Way." This multitrack release, which comes with a worship version, was written with Lauren Hungate and Jonathan Gamble, produced by Jeff Owen (Tenth Avenue North) and co-produced by Bede Benjamin-Korporaal, 'Better Way' follows the success of their most recent single 'Call Of The Wild' and their previous singles 'Surprise' and 'The Kind Of Man' (Surprise at #27 & The Kind Of Man #42 at Audience Airplay).
The Color's new single, 'Better Way' (DREAM Records), reveals a fresh side of the band that encompasses both depth and maturity. The song wrestles with the reality of our small human perspective. We want to know why something is happening. We desire control and clarity when facing uncertain times. 'Better Way' reminds us that, though we only see a small part of the picture, God sees it all. We can walk in faith trusting that, though it may not unfold as we hoped or expected, He is leading us a Better Way.
"When we wrote Better Way the entire touring industry had shut down and I had essentially lost my job." Frontman, Jordan Janzen shares. "It had been almost 6 months and I still didn't have any clarity and I still didn't have any control. There were some really hard days where hope was hard to find. I needed this song. I needed a reminder that I see such a small part of the picture."
"Psalm 139:16 says "… Every day of your life was recorded in [God's] book. Every moment was laid out…""
Connect with The Color:
Web | Facebook | YouTube | Instagram | Twitter
ABOUT THE COLOR:
THE COLOR is a Christian Pop band from Canada. Though new to Dream Records, these bona fide road warriors have been touring North America for the past 9 years and have garnered great success in the industry with their singles 'Surprise' and 'The Kind Of Man', both of which charted in the Top 50 on Billboard's CCM Audience Airplay (Surprise at #27 and The Kind Of Man at #42). Boasting an energetic live show and songs that emanate hope, The Color was the recipient of the 2018 Juno Award and were named 2017, 2018 & 2019 Group of the Year at the GMA 'Covenant Awards'.
ABOUT DREAM RECORDS:
DREAM provides artists with a genuine approach to how real artist development should be done. By allowing for a partnership as a business model, DREAM artists empower themselves to develop and carry out a real vision for their lives as they affect other people's lives with their music and message. Incorporating social media, press, radio and touring, DREAM is helping its artists grow together as a family. DREAM was founded in 2008 and has grown into multiple labels and a publishing company.
###