ANCHOR HYMNS INTRODUCE THEIR FIRST ORIGINAL, 'SING, SING, SING'
The song carries the soulful essence that sets Anchor Hymns apart in the worship sphere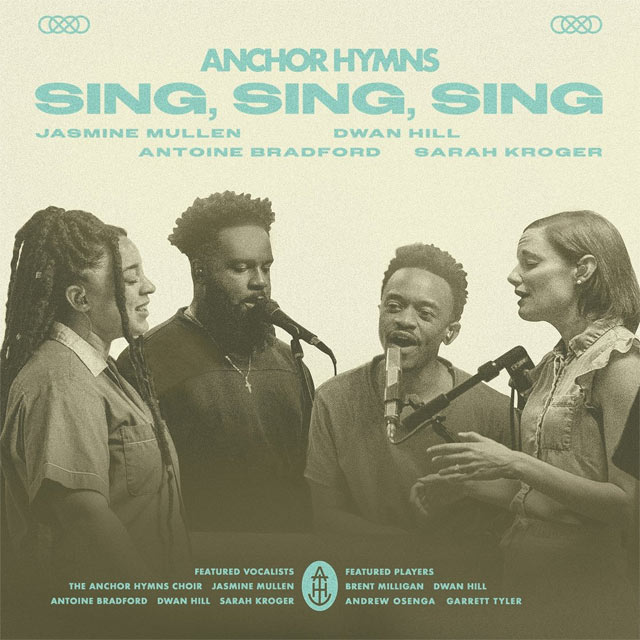 NEWS SOURCE: Integrity Music
March 27, 2023
Anchor Hymns is all about gathering to honor and join in the lineage of great songs of truth handed down over time. After two initial EPs presenting groovy, folk-driven versions of Church classics, the collective introduces their first original piece, 'Sing, Sing, Sing'. The new song carries the soulful essence that sets Anchor Hymns apart in the worship sphere. Led by Sarah Kroger, Jasmine Mullen, Antoine Bradford, and Dwan Hill, it might come across as an "odd choice" - in the words of collective founder Andrew Osenga - because its nature is not a congregational song but one about the importance of the hymnal tradition. Osenga continues, "'Sing, Sing, Sing' serves as a sort of thesis for why we think this stuff matters."
Rooted in sacred, reverential, and vulnerable honesty these hymns dive deep into the human condition. Anchor Hymns is a multigenerational collective of artists creating songs of substance from both a lyrical, theological, and musical frame. With roots spanning across generations past and yet-to come, as well diverse ethnic backgrounds, these songs create a place where honesty can be found in community, while simultaneously looking towards what's ahead with gratitude. Musically drawing from Neo Soul, Indie Rock, Brooklyn Fusion, (Blues, Jazz, RnB, Soul), these songs are unafraid to tackle the sounds of suffering and grief, as well as joy and celebration. Anchor Hymns creates a space in our musical lexicon to find language for our grief, our suffering, our anxieties, our doubt, our disbelief, our uncertainty. More than just a serious collection of spiritual songs, these are meant to be played on a continuum of musical sophistication, allowing room for worship musicians to level up their skills or to simplify the sounds and play within their skillset. Anchor Hymns is made of Paul Baloche, Leslie Jordan, Taylor Leonhardt, Jasmine Mullen, Dee Wilson, Antoine Bradford, Sarah Kroger, Jess Ray, Tim Timmons, Garrett Tyler, Lucy Grimble, Dwan Hill, Sandra McCracken, Chaunda Jefferson, Brian Eichelberger, Ricky Vazquez, Brent Milligan, and Andrew Osenga.
###
For more info on Anchor Hymns, visit the JFH Artists Database.