Canyon Hills Worship Releases Live Album, All To Jesus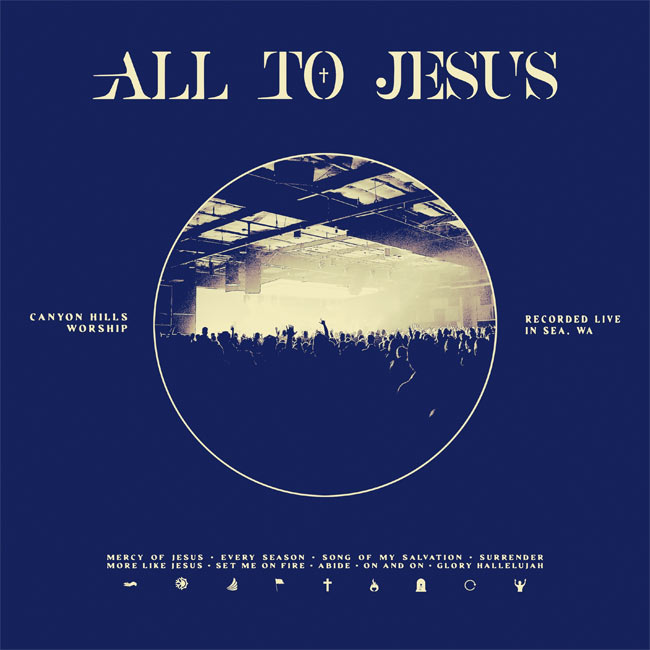 NEWS SOURCE: Dream Label Group
April 14, 2023
Los Angeles, CA (April 14th, 2023) — Seattle-based Worship team Canyon Hills Worship releases their new live album All To Jesus. Their fourth full length album features their new radio single "Every Season" along with nine other live tracks as well as live videos.
All To Jesus was produced by Michael Monroe, Andy Soemo, Stephen Pelatzky, David Neuman and was co-written by Raymond Gregory, Michael Monroe, Koby Orr (Canyon Hills Worship) and Brandon Coker, Clay Finnesand (North Point Worship).
"Most of these songs were written at writing camps with our good friends Clay Finnesand and Brandon Coker from North Point Worship", says Michael Monroe of Canyon Hills Worship. "They have become our constant collaborators. There's something so special about writing with good friends. Getting to know the ins and outs of each other's lives and walks with Jesus. These songs all came from a special place of honesty and vulnerability in those settings."
The 10-song album showcases the live experience at Canyon Hills Community Church. The album also features live version of popular songs like "Mercy Of Jesus", "Surrender" and "On and On."
"Our heart as a band has always been to write songs for our church. For the people that the Lord has entrusted to us to lead in worship. There is something so special about singing a new song all together in that room. This project was born out of a desire to continue singing new songs to the Lord at Canyon Hills. What a blessing it is to see these songs starting to impact people outside of our four walls." - Michael Monroe, Canyon Hills Worship
Track listing:
Mercy Of Jesus - Live
Every Season - Live
Song Of My Salvation - Live
Surrender - Live
More Like Jesus - Live
Set Me On Fire - Live
Abide - Live
On And On - Live
Glory Hallelujah – Live
Every Season
Listen or Buy All To Jesus here

Connect with Canyon Hills Worship:
Website | Facebook | Instagram | YouTube | TikTok
ABOUT CANYON HILLS WORSHIP:

Canyon Hills Worship exists to glorify God and encourage his church. The group is made up of worship leaders and songwriters from Canyon Hills Community Church in Seattle Washington. Their heart is to write music that inspires worshippers in the local church and stirs people's attention and affection towards Jesus.
ABOUT DREAM WORSHIP:

DREAM provides artists with a genuine approach to how real artist development should be done. By allowing for a partnership as a business model, DREAM artists empower themselves to develop and carry out a real vision for their lives as they affect other people's lives with their music and message. Incorporating social media, press, radio and touring, DREAM is helping its artists grow together as a family. DREAM was founded in 2008 and has grown into multiple labels and a publishing company.
###