MERCYME'S "TO NOT WORSHIP YOU" HITS No.1 ON FOUR BILLBOARD AND MEDIABASE CHARTS
"Almost Home" track goes Gold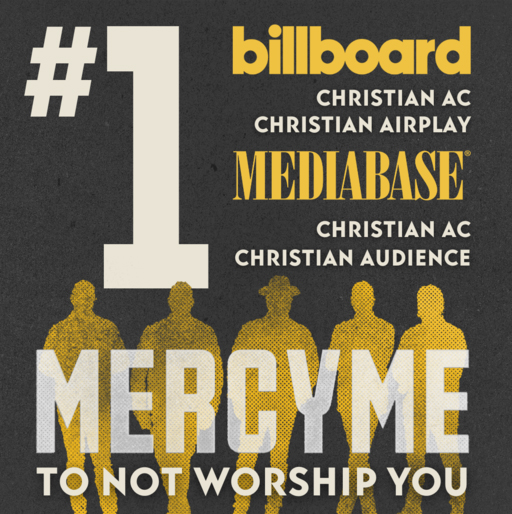 NEWS SOURCE: The Media Collective
September 22, 2023
Nashville, TN….September 21, 2023 – GRAMMY®-nominated band MercyMe's latest single, "To Not Worship You," has hit No. 1 on four different Billboard and Mediabase charts. The song is the second No. 1 from their latest best selling project, ALWAYS ONLY JESUS, following the Dove Award-nominated Song of the Year track, "Then Christ Came."
About the song, lead singer Bart Millard said, "I think with this song, I better realize what being still and knowing that He is God means. A lot of times when we have doubt or we're questioning stuff, I think ultimately it's because we're not stopping and remembering who God really is. When you take the time to remember who God is, then it's easy to ask, 'who are we to not worship him?'"
Additionally, another one of MercyMe's No. 1 songs, "Almost Home," (inhale/exhale) has also been certified Gold by the RIAA, bringing the band's certification tally to total 15 gold, platinum and multi-platinum singles and albums.
Tour season soon will be in full swing for the band this fall as well as they kick off the "Together Again Tour," hitting 16 cities in October with past tourmates Crowder and Andrew Ripp, followed by a November, twelve-city co-headline run with TobyMac and also featuring Zach Williams. All tour information and tickets are availalble at mercyme.org.
About MercyMe:
It continues to be a landmark time for the multi-platinum selling, GRAMMY® nominated, multiple American Music Award, Billboard Music Award and Dove Award winners MercyMe. They were recently named Billboard's Top Christian Artist of the 2010 decade, and in 2020 received their eighth American Music Award nomination. A major motion picture based on the life of frontman Bart Millard who wrote the mega-hit song "I Can Only Imagine" after the loss of his father, opened at a remarkable No. 3 at the box office on Mar. 16, 2018 (Lionsgate, Roadside Attractions). In conjunction with the movie release, Millard penned a memoir and the band released a collection of hits titled I Can Only Imagine – The Very Best Of MercyMe. In 2018 MercyMe was named Top Christian Artist at the Billboard Music Awards, was the top winner at the fan-fueled K-LOVE Fan Awards including a win for Artist of the Year, and was the GMA Dove Award Winner for Artist Of The Year. Since their debut in 2001, the band has sold more than 9 million units in CD, single and DVD sales, garnered more than 49 No. 1 multi-format radio singles, and had four consecutive mainstream radio hits. MercyMe made history in 2014 as "I Can Only Imagine" surpassed 2 million digital downloads, making it the first song in Christian music to go platinum and double-platinum in the digital domain. The song has now gone 5x platinum. In 2009, Billboard named MercyMe's "Word Of God Speak" the No. 1 Song of The Decade and the group the No. 1 Artist of the Decade in both the Christian Songs and Christian AC Songs categories, recognizing them as one of the industry's most notable talents. They have sold out venues throughout the US and Canada, including Radio City Music Hall, Red Rocks Amphitheatre, and have appeared on the Macy's Thanksgiving Day Parade, Good Morning America, GMA3, The Today Show, CBS This Morning, FOX New Channel's FOX & Friends, CNN, ABC News and in the pages of Entertainment Weekly, The New York Times, USA Today and more. Their eleventh album, ALWAYS ONLY JESUS, is available now.
Get Connected with MercyMe:
Website // www.mercyme.org
Twitter // www.twitter.com/mercyme
Instagram // www.instagram.com/mercyme
Facebook // www.facebook.com/mercyme
YouTube // www.youtube.com/user/mercyme
###
For more info on MercyMe, visit the JFH Artists Database.