2023 Goodness & Thankful and Songs For Christmas Day Are Here!
DREAM Label Group Releases Newly Updated Thanksgiving and Christmas Playlists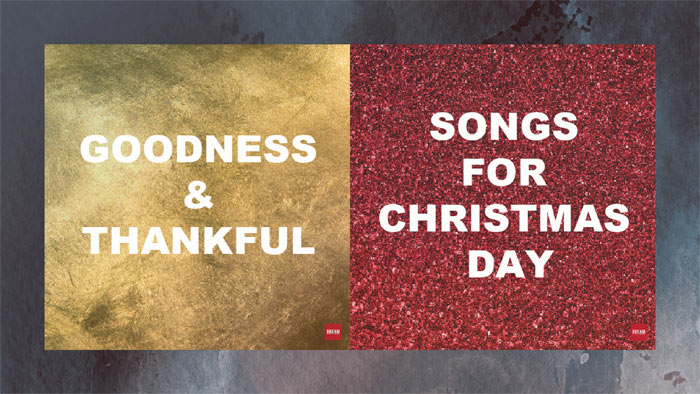 NEWS SOURCE: DREAM Records
November 17, 2023
Los Angeles, CA (November 17th, 2023) — The season is here. The temperature and the leaves are falling. As we begin to gather together with our loved ones, Dream Records wants to help the season by sharing their Goodness & Thankful (Thanksgiving playlist) and Songs For Christmas Day (Christmas playlist). A mood building set of playlists from your favorite DREAM artists like Matthew Parker, Switch, Branan Murphy, Joel Vaughn, Futures, Canyon Hills Worship and more!

"We here at DREAM are grateful to each and every one of you. It has been a great year. We celebrated our 15th year as a company and feel that we are just getting started. God has been so good to us. As we close out the year, we wanted to put these playlists together for you. We hope they bring you the same joy that we feel when we hear these incredible songs." - Lance Brown, DREAM Label Group
Listen to "Goodness & Thankful" here:

Listen to "Songs For Christmas Day" here:
Connect with DREAM:
Web | Facebook | YouTube | Instagram | TikTok


ABOUT DREAM LABEL GROUP:
DREAM provides artists with a genuine approach to how real artist development should be done. By allowing for a partnership as a business model, DREAM artists empower themselves to develop and carry out a real vision for their lives as they affect other people's lives with their music and message. Incorporating social media, press, radio and touring, DREAM is helping its artists grow together as a family. DREAM was founded in 2008 and has grown into multiple la- bels and a publishing company.
###