April, 2001
---
*Friday, April 27th, 2001*
---
The Gospel Music Association
week came to a close last night with the 32nd Annual
Dove Awards
! The winners have been announced on several sites on the net including the ceremony's
official site
(click here).
Third Day
cleaned house snagging Group of the Year, Artist of the Year, Praise Album of the Year (
Offerings
), and Rock Recorded Song of the Year (with "Sky Falls Down"). The band was also featured on the
City on a Hill
worship project which also one a Dove for Special Event Album of the Year. Other winners were
Steven Curtis Chapman
for Male Vocalist,
Nichole Nordeman
for Female Vocalist and
Plus One
for New Artist. Congratulations to all the winners!
---
SHINEmk
's second album is almost done. Gotee Records'
Todd Collins
will produce 4 songs for the band. The release date will be September 11th.
---
Sparrow Records artists,
The Waiting
will finally release their new project this Fall.
Mac Powell
of Third Day and
Michael Johnston
of
Smalltown Poets
will be guest vocalists on the record.
---
The
Tooth and Nail Tour
is off and running. The line up of bands is
.rod laver
,
Calibretto 13
,
Ace Troubleshooter
, and
Slick Shoes
.
---
*Thursday, April 26th, 2001*
---
Kevin Max
has recently rested up for GMA Week. He was recouperating from having his wisdom teeth removed over a week ago. Kmax has kicked off GMA Week a bit differently than everyone else. He celebrated it with a birthday party for his wife, Alayna, and her twin sister, Audra.
---

Tait
just finished up a very successful promo tour across the country and is excited about the release of their first single. "All You Got" hit radio airwaves last week. Tait's debut album,
Empty
, will hit streets on July 3rd. According to Michael, he named the band after his father. Michael lost his father to cancer, and he wanted to do something to honor his memory and the impact his dad made on his life.
---
Look for
tobyMac
to be one of the presenters at the Dove Awards. tobyMac and Cassidy Rae, one of the co-stars of the teen movie
Extreme Days
, will present "New Artist of the Year." tobyMac is also still sitting at the top of the charts. His current single, "Extreme Days," has been #1 for four weeks in a row.
---

Platinum-selling and chart topping vocal group,
Point Of Grace
, announces its first headline tour in over two years. The group's
Free To Fly Tour
is in support of its sixth and already critically acclaimed Word/Epic Records project,
Free To Fly
, which releases May 1. Beginning in September and continuing in the spring of 2002, the tour currently includes over fourteen states this fall alone and visits such major markets as Minneapolis, Atlanta, Detroit, Houston, Dallas/Ft. Worth and Chicago, among others. Award-winning Essential Records artist
FFH
will join the tour as a special guest.
---
This Saturday, April 28th,
Stretch Arm Strong
is going to be shooting a video for the "For the Record," a song off their new record
A Revolution Transmission
that's going to be out July 3rd. Visit
www.stretcharmstrong.net
and go to the garage section where you can download the new MP3 as well as the lyrics to the new song. Don't let your first 15 minutes of fame pass you by!
---
The Solid State tour
is quickly coming together as we speak!
ZAO
,
Luti - Kriss
,
Stretch Arm Strong
and
Living Sacrifice
are going to be playing shows together for the entire month of June. Keep an eye on Solid State's tour page
here
for more details!
---
*Tuesday, April 24th, 2001*
---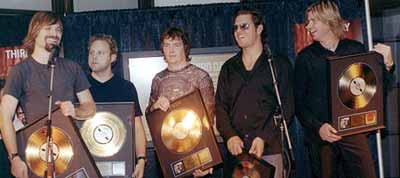 Atlanta rock band
Third Day
is celebrating yet another milestone in a year already filled with accolades and success: the band's critically acclaimed, best-selling, and GRAMMY and Dove Award nominated recording,
Offerings - A Worship Album
, has been certified Gold by the Recording Industry Association of America (RIAA) for sales in excess of 500,000 units. Essential Records, Provident Music Distribution and Creative Trust honored Third Day for its landmark achievement during this year's Gospel Music Association Convention with a special Gold Celebration event, Monday, April 23, in Nashville. Their recent tour logged an amazing 22 sellouts out of 28 ticketed events. The average attendance for this tour was 3,239 enthusiastic fans. Many of the tour markets' attendance figures doubled from concerts in the same city one year ago, such as the concert in Atlanta showing 400% growth. Congrats guys!!
---
Pillar
will perform at the
32nd Annual Dove Awards
. Heavy bands don't usually get to perform at the Dove awards so this is quite an accomplishment. Their second radio single, "Live for Him" is now #1 on the PAJ Rock Chart. Look for the band coming to your state soon wit the
Festival Con Dios tour
.
---
Although
Big Tent Revival
is no more, fans can get their last taste of the band with
Big Tent Revival Live
. The record comes out on May 22 and it features live performances of their hit songs.
---
On the heels of their #1 debut hit, "Broken Tape Decks," Squint Entertainment's hip hop group
L.A. Symphony
is partnering with the NBA (National Basketball Association) and Yahoo! Sports for the three-month Rhythm 'n Rims Tour. The Yahoo! Sports NBA Rhythm 'n Rims tour is the NBA's premier interactive basketball and music event, bringing the thrill of NBA basketball, the fun of Yahoo! Sports and the latest music to fans all over the United States. L.A. Symphony will perform at 11 of the tour's 14 stops, including the two cities hosting the NBA Finals in June.
---
Calibretto 13
is releasing an EP in June with 6 songs that should have been on
Enter The Danger Brigade
. This record will only be sold at
www.toothandnail.com
.
---
*Wednesday, April 18th, 2001*
---
UPDATE:
LaRue
's "Jaded" Video will be shown on
The Disney Channel
! The video has been selected to air after winning the "Pick-It" or "Kick-It" contest on
zoogdisney.com
.
---
Plankeye
's new song, "When It Comes", has been picked by
MP3.com
to be included on their radio show '
The Download
'. 12,000-plus alternative bands were left out of this show and almost 200 radio stations participate in the program across the country. You can click here to listen to the show:
http://artists.mp3s.com/artists/118/alternativemp3com_radio.html
---

We have some recent chart toppers! Congrats are in order for
Lifehouse
. The lead singer of this mainstream band with a Christian message,
Jason Wade
, got married, while his hit song "Hanging By A Moment" cracked the Billboard Top 10, and the album
No Name Face
has been certified platinum (1 million album sales)! Whew! Congrats are also due for
Toby Mac
, who received his first solo number one song with "Extreme Days" in the CHR rock charts! And finally, congrats are in order for
Leigh Nash
for cracking the Billboard Dance top 5 with the band Delerium for "Innocente (Falling In Love)" from Delerium's album,
Poem
.
---
Leonard Ahlstrom
, a long-time member of
Newsong
, has decided to leave the group to become the president of
Tribe Records
. This is the record label that is a part of
Clint Brown Ministries
in Orlando, Florida. More information will be given out later.
---
Fine China
and
Puller
have recently been featured on
Abercrombie and Fitch
's official website in their music section. You could vote for either of them, The Stereo, Fuzz Townshend, or Micro Mini, as best MP3. The Fine China was "We Rock Harder Than You Ever Knew" from their record
When The World Sings
.
---
Inpop Records
has decided that they will release an album for the
Festival Con Dios
in May. The album will have music from
the Newsboys
,
Audio Adrenaline
,
The Supertones
,
The Elms
,
Switchfoot
,
T-Bone
,
Earthsuit
,
Superckic[k]
,
Tree63
, and many others. Speaking of the
Supertones
, the band have signed a multi-year artist management agreement with Nashville-based
Alabaster, Arts, Inc.
, effective immediately. The new agreement comes just as the Supertones are completing the last leg of the 60-city "
Loud and Clear Dance Party USA
" tour with supporting acts Switchfoot and
Relient K
. More than 60% of the tour's shows have been sellouts. Their former management was Davdon Agency. The reason for the switch was not given.
---
The Deadlines
are back in the studio, (check out the STUDIO DIARY at
thedeadlines.com
for the latest!) Here's what the band has to say, "The new album should be out sometime this fall with all new songs performed by the deadlines fabulous new members in our own renegade rock and roll style. And to answer everyone's burning question, yes we dropped the horror business and are pursuing straight up rock and roll with a 60's feel and the Deadlines spin on it...110% less blood and guts with twice the rock!"
---
*Thursday, April 12th, 2001*
---
The Gospel Music Association
has announced that Superstation WGN will be the only station to premiere the airing of the 32nd Annual
Dove Awards
on Friday May 4th at 8 PM, Eastern. PAX TV has been dropped from airing the show. Money was a key issue in this departure.
---
LaRue
's brand new video "Jaded" is currently on the "Pick It Or Kick It" poll at ZOOG Disney! If over 50% of voters choose to Pick It, then it will be added to the ZOOG playlist. Go now and vote!!!
http://disney.go.com/disneychannel/zoogdisney/music/index_frame.html
---
Fanmail
is already ready to record their next project which they hope will be out in late August. Their Tooth and Nail contract is up so this new record will be out through Foor Door Entertainment. Foor Door will release a twelve song compilation called "
What's Behind Door #4 Volume 1
" featuring new music from
Value Pac
as well as many other bands.
---
On May 22,
Hangnail
will release their new album
Facing Changes
with an additional
Hangnail Unplugged
CD. The first 5,000 copies will be free with the purchase of
Facing Changes
, so get it quick! But if you miss this opportunity, you can buy it at
toothandnail.com
. You can also catch Hangnail playing many festivals this summer.
---
Newsong
has recently developed a new "boy band." This will be a pop band of five guys whose mission will come from 1 Timothy 4:12. "
Let no one think little of you because you are young, but be an example to the believers in word, in conduct, in love, in spirit, in faith, in purity.
"
---
Word Records announces the signing of 16-year-old Texas singer, songwriter and guitar player
Paige Lewis
. Referred to as simply "Paige," she will release her self-titled debut for Word June 19, 2001. In addition to the team at Word Records, Paige is managed by Mike Atkins Management, a division of TBA Entertainment, which is also home to
Point Of Grace
,
Jaci Velasquez
,
4HIM
,
FFH
and
Wayne Watson
. The William Morris Agency will handle booking performances for Paige.
---
*Tuesday, April 10th, 2001*
---

UPDATE:
RAZE
founder
Ja'Marc Davis
, has been released from jail on a $44,000 bond. This is a drastic change from the $550,000 that the bail was formerly. He was arrested March 1st in Tulsa, Oklahoma, on charges of sexual crimes (we've decided it's not necessary to specify further). Keep praying for everyone involved in this situation. As far as the band, their future is up in the air as the tour has been cancelled and the band is currently taking a break.
---
Delirious?
have just finished their video for the upcoming single "Waiting For The Summer" in a London studio, directed by Andy Hutch. The video is of five men who get caught in a suitcase and go to a warmer climate. The guys were cramped in a small box playing their instruments while being kicked around. The video will be on the UK only single on June 4th.
---

dc Talk
is gearing up to release
Solo: Special Edition
on the 24th. For those who don't know, the album showcases 2 new songs from each members' forthcoming solo projects this year and one new live recording of a
U2
cover song. You can catch an early review of the album here at the Hideout
here
, complete with sound clips. The band will be performing at many of the major festivals with each member doing roughly a 20 minute solo set and ending with the trio regrouping as dc talk for a set.
---
The Echoing Green
are almost done with
Music From The Ocean Picture
, their upcoming release. They hope it will be in stores by Christmas. While you wait on this project, you can check out their new single "Supernova" on 12" at their website,
www.echocentral.com
---

As they wrap up their final week on
Carman
's "
Heart of A Champion Tour
,"
ZOEgirl
graces the cover of
POLLSTAR
! You can read the featured article
on their site
. They also find their album still on the Billboard Heatseekers chart at #26 after 30 weeks on the chart! Last week the group spent hours rehearsing with
Tony Michaels
, who recently choreographed
Jennifer Lopez
's recent video and moves for
N'Sync
as well!
---
Relient K
is back at it again. Their new record will be out on August 28 from Gotee Records. Some of the songs will be "Pressing On", "May the Horse Be With You", "Less Is More" and "Down in Flames". More news will be coming soon.
---
Inspired by the chorus of new companies (Grassroots Music, INO/M2.0) that are taking a non-traditional business model for themselves, industry veteran
Bruce A. Brown
(known from work with
CCM Magazine
), along with his wife and partner Donna Brown, have announced the formation of
Jabez Management
in hopes of being "mold-breakers" in the management world. The company's name, Jabez, comes from a little-known prayer by a man Jabez in I Chronicles 4: 9-10: "
And Jabez called on the God of Israel saying, 'Oh, that You would bless me indeed, and enlarge my territory, that Your hand would be with me, and that You would keep me from evil, that I may not cause pain!' So God granted him what he requested.
"
---
*Sunday, April 8th, 2001*
---

Want to win some money and have fun at the same time? Here's what you need to do: Make a music video to the song "Big House" from
Audio Adrenaline
's latest album,
Hit Parade
(family members and pets are also welcome to participate)! The deadline for entries is May 15 so hurry up and get the parade started. The full contest details and entry form can be found at
forefrontrecords.com
or
YouthLeaderOnline.com
. Prizes are: 1st place - $300; 2nd place - $200; and 3rd place - $100!
---
Big Idea Productions
recently announced that it is in production on its first full length theatrical release,
Jonah: A VeggieTales Movie
.
Jonah
will be released sometime in 2002. The animation and the story line will be more complex then the videos. More details of this movie will be out this spring. This is a movie not to be missed by any fan of the
VeggieTales
.
---

5 Minute Walk Records is proud to announce a new album and Fall tour from
Five Iron Frenzy
. The album is currently slated for an October 23 national release date. The tour will lead up to the release and will feature our good friends
Relient K
,
John Reuben
and
Ace Troubleshooter
. The tour kicks off in mid September and runs through the beginning of November. Each show will include a live interactive drama that they want you to participate in.
5minutewalk.com
will have a call sheet for the various roles by June and you can sign up for a speaking part in the play. There will be around 10 speaking roles, but everyone should participate in the play by being a part of the worlds largest "Sock Puppet Choir." That's correct - they need everyone to bring a pair of sock puppets for the sing along part of the play. The socks will be donated to local homeless shelters after the show, but will serve as the choir throughout the evening.
---
Atlantic Recording artists,
Plus One
, have just finished taping an episode of CBS's
Touched By An Angel
. They will be the main actors in the episode as well as have two live performances of "The Promise" and "When Your Spirit Gets Weak." The episode will air on Easter Sunday, April 15 at 8PM Eastern. They have also recently gone gold selling 500,000 of their debut cd,
The Promise
.
---
*Monday, April 2nd, 2001*
---
Third Day
has announced on their official Web site,
thirdday.com
, that they are planning to shoot a feature-length VHS/DVD of the
Offerings
concert experience. The video release will only be available on their website. Pre-orders are planned for April 14. The band says that cool things never seen from Third Day will be on this special not-to-be-missed video.
---

Switchfoot
recently received a write up in the March issue of the teen magazine
BOP
. The magazine called the group's third album
Learning To Breathe
buzzworthy. BOP mainly covers the more well known secular groups like N'Sync, Pink, and Destiny's Child.
Earthsuit
also gathered the glance of a secular publication. The band was in
Teen People
where they talked about how they got their start as a band in a Bourbon Street coffeehouse. Look for them in your hometown on their "
Do You Enjoy the Distortion Tour
" with
Ill Harmonics
and Forefront Records' latest new art
The Benjamin Gate
.
---
Kirk Franklin
will join
Deborah Cox
,
AZ Yet
and
Trin-i-tee 5:7
on the soundtrack for the upcoming movie "
Kingdom Come
." The movie stars
Whoopi Goldberg
,
LL Cool J
,
Jada Pinkett Smith
, and
Toni Braxton
and is due out on April 27. The movie is a comedy about a family who comes together to remember one of their dearly departed.
---

Here's a
P.O.D.
in-the-studio update! For the past 2 months, P.O.D. have been secluded in a rehearsal studio in San Diego writing material for their new record for Atlantic Records. Recently, the boys began a fast as they continue writing and seeking inspiration for what is being labeled as their "most powerful" record yet. They also recently started 3 weeks of Pre-production with Howard Benson, who they are co-producing the record with. They begin tracking in Los Angeles on April 9th.
---

Having firmly established itself as a premiere label in breaking new artists,
Rocketown Records
has signed its first truly "new" artist in two years,
Shaun Groves
, whose debut project,
Invitation To Eavesdrop
, will release worldwide on July 17, 2001. Since its launch in 1996, Rocketown has garnered New Artist of the Year Dove Award nominations for
Chris Rice
,
Watermark
and last year's winner
Ginny Owens
.
---
Check out the
Carman
pay per view concert special on Easter Sunday at 5 pm and 8 pm Eastern Time. The show was taped at the Reunion Arena in Dallas, Texas from the "
Heart of a Champion
" tour with
ZOE girl
and
Russ Lee
. Also, if you haven't yet, check out Carman's new movie in select theaters now,
Carman: The Champion
!
---
The Echoing Green
have decided to re release their formerly limited edition and out of print
Science Fiction
record. The band has reissued the album in the form of an MP3.com CD. It has all the tracks of the original, a new song, and is a reasonable price. Go to
MP3.com
to get yours today.
---
Well, it looks like MTV can't get enough of new band
Superchick
! In addition to having their song "TV Land" featured in the first episode and casting special of the new season of "
The Real World
" on MTV this June, their song "Get Up," will also be in the show's end credits!
---
April 9th through May 3rd,
Solid State
hard rockers,
Embodyment
will be in studio recording their next record called
Hold Your Breath
. Watch for this by the end of the summer...
---