Andrew Peterson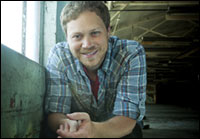 CLICK IMAGE FOR A LARGER PHOTO
[1995 - Present]
Style: Folk / Pop

Birthday: June 4, 1974
Birth Place: Monticello, Illinois


Artist Discography
Behold the Lamb of God: The True Tall Tale of the Coming of Christ, 2019 [Centricity]
Resurrection Letters Anthology (Boxed Set), 2018 [Centricity]
Resurrection Letters, Vol. 1, 2018 [Centricity]
Resurrection Letters: Prologue EP, 2018 [Centricity]
The Burning Edge of Dawn, 2015 [Centricity]
After All These Years: A Collection, 2014 [Centricity]
Light for the Lost Boy, 2012 [Centricity]
Light for the Lost Boy: Special Edition, 2012 [Centricity]
Above These City Lights (Live), 2011 [Centricity]
Counting Stars, 2010 [Centricity]
Behold the Lamb of God: 10th Anniversary Edition, 2009 (independent)
Appendix C: Live With The Captains Courageous, 2009 (independent)
The Resurrection Letters, Vol II, 2008 [Centricity]
Appendix M: Media/Music/Movies, 2007 (independent)
Slugs & Bugs & Lullabies, 2006 (independent)
Appendix A: Bootlegs and B-Sides, 2006 (independent)
The Far Country, 2005 [Fervent]
Behold The Lamb Of God: The True Tale of The Coming of Christ, 2004 [Fervent]
Love & Thunder, 2003 [Watershed]
Clear To Venus, 2001 [Watershed]
Carried Along, 2000 [Watershed]
Walk, 1996 (independent)
Compilation Contributions
Bellsburg... The Songs of Rich Mullins, 2022 ... "Hello Old Friends (feat. Andy Gullahorn & Ben Shive)" [Old Bear]
There's A Rainbow Somewhere (The Songs Of Randy Stonehill), 2022 .... "Charlie The Weatherman" (independent)
Christmas: Joy To The World, 2013 .... "Long, Long Ago" [Centricity]
Bethlehem Skyline, Vol. 2, 2010 .... "Long, Long Ago" [Centricity]
Songs From The Voice, Volume 2: Son Of The Most High, 2006 .... "Arise, Shine" [Thomas Nelson]
The Nativity Story: Sacred Songs, 2006 .... "Labor Of Love" w/ Joy Phillips (from Behold The Lamb Of God) [Word]
Absolute Favorite Christmas, 2004 .... "While Sheperds Watched Their Flocks" [Fervent]
City On A Hill: The Gathering, 2003 .... "Holy Is The Lord" [Essential]
Essential Hits: Ten - Celebrating A Decade of Wonder, 2002 .... "The Chasing Song" (from Carried Along) [Essential]
The Awakening Compilation Volume 2, 1998 .... "Three Days Before Autumn," "Carolina (Live)"
JFH Interviews
Collector's Items
Light for the Lost Boy vinyl release, 2012 [Centricity]
Artist Videography
Behold The Lamb of God - Live in Concert DVD, 2005
Artist Literature
Andrew Peterson Concert Reviews
In The Round Tour - 10/4/13, Manheim, PA
Songs & Stories Tour - 10/6/11, Lancaster, PA
Artist Links
JFH Interview (About his books) (2012)
JFH Interview (2012)
JFH Interview (2009)