NEWSBOYS IN WORLD PREMIERE FRONT ROW LIVE CONCERT SAT. NIGHT OCT. 25 @ 10:00 P.M. (ET) ON GMC
NEWS SOURCE: Spinhouse PR
October 23, 2008
ATLANTA (October 22, 2008) – International pop/rock phenomenon Newsboys rock the stage in an exclusive new Gospel Music Channel performance, Front Row Live: Newsboys, world premiering Saturday, Oct. 25 at 10 p.m. ET. (Immediate encore at midnight, again Tuesday, Oct. 28 at 9 p.m. and midnight ET.)
Front Row Live is GMC's original series featuring powerhouse artists hosting their own performances while sharing their musical inspirations in front of specially-invited audiences. Front Row Live saves fans the cost of gas and a concert ticket for an extraordinary hour of entertainment from the front row in their own home.
Front Row Live: Newsboys offers fans a musical gem from the band that has been playing stadiums and arenas for more than a decade. Playing before an intimate crowd in an Atlanta studio, the Newsboys' Front Row Live features songs from the band's recently released CD/DVD Newboys Live: Houston We Are Go. The one-hour concert also features tunes from Newsboys' last studio album GO – "I Am Free," "Wherever We Go," "Something Beautiful" – as well as classic Newsboys hits including "Shine," "He Reigns" and "Breakfast."
The charismatic and distinctive front man for Newsboys, Peter Furler, said the Front Row Live: Newsboys special offers "a unique opportunity for fans to see us in a bit more intimate setting where you are relying a bit more on the passion and the sweat – just feeling what you are singing."
From humble beginnings in the church basements and pubs of Australia, to sold-out arenas, Newsboys are one of the most successful and most recognized bands in all of Christian Music. From their explosive, high energy live shows to their highly successful CDs, Newsboys continue to set the mark for Christian bands with multiple Dove Awards and GRAMMY nominations, four RIAA certified Gold CDs, more than five million records sold and 22 #1 radio hits.
Upcoming world premiere Front Row Live concerts include NewWorldson on Nov. 1. For complete Gospel Music Channel programming, visit http://www.gospelmusicchannel.com/schedule.
Gospel Music Channel is the fastest-growing network in television today and can be seen in more than 40 million homes nationwide and on DIRECTV on channel 338.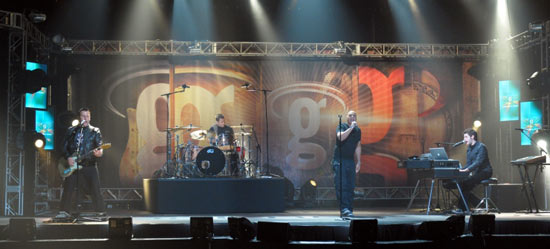 ###