JFH MORNING NEWS SHORTS FOR SATURDAY OCTOBER 17, 2009
News on Skillet, Run Kid Run, The Afters, Phil Wickham, Flyleaf
NEWS SOURCE: a Jesusfreakhideout.com report
October 17, 2009

>> Chat With Skillet Live On Facebook
"Calling all Skillet fans on Facebook! The band will be hosting a live chat session on October 27th via Facebook and partner UStream. Skillet will be answering questions and talking to fans starting 6:00 PM EST / 3:00 PM PST, so don't miss this chance to interact with the band as they celebrate the release of their latest album, Awake, featuring the radio hit single, "Monster," and the track "Hero." Visit their official Facebook page for all the info, and grab the album now from iTunes.

Skillet is currently in the midst of their Awake and Alive Tour, with Decyfer Down and Hawk Nelson. See their Myspace page for the full list of dates and ticket information." (from Total Assault)
>> Run Kid Run Cancels A Few Tour Dates...
Yesterday, the guys in Run Kid Run posted some bummer news about having to cancel the rest of their tour dates with Pillar. The band writes, "To everyone that was going to see us on the pillar tour we are so sorry to miss some of those dates... If you have not heard we blew our engine in our van and had to drop off the tour. Please pray for us for we're not sure what's next..thanks for your understanding and support. Sincerely, Run Kid Run" Visit their MySpace for the latest on the guys.
>> The Afters Begin Work On Third Album
Following the release of last year's Never Going Back To OK, The Afters went through a couple of member changes and are now hard at work on their third release. Vocalist Josh Haven recently reported, "I hope your fall is off to a great start. Its been unusually cold and rainy here in Dallas. We're hitting the studio next week to begin recording our third record! We're extremely excited about the new songs... I think they're our best yet! We'll be posting a lot of blogs, photos and videos from the studio so stay tuned... We will also be making a big touring announcement very soon. We're really looking forward to new music, new tours and another great year! We're blessed to have your support!" More to come...!
>> Download Phil Wickham's New Album With Preorder!
We recently announced that Sara Groves was giving away an early download of her album Fireflies & Songs for a limited time with preorder and now Phil Wickham is offering a similar deal for the Nov. 17th release of his new album, Heaven And Earth. There's even a special package that includes an EXCLUSIVE acoustic version of the new album (sounds like the entire record?!) in addition to the regular version. And with the preorder special, you'll get both instantly! Check out PhilWickham.com now for more details.
>> Flyleaf Offers Unique Goodies With Memento Mori Preorder
And Wickham isn't the only one giving fans special incentives for preordering. Check out this announcement from Flyleaf... "Get Flyleaf's new "Memento Mori" CD or Expanded CD with four additional tracks from our official webstore! Bonus items include an exclusive guy's or girl's tee featuring the Memento Mori logo, embroidered patch, journal with pencil, and a screen printed poster signed by the entire band. Items are available in a few combinations - Go for just the album, Fan Bundle, or Ultimate Fan Bundle. While you are there check out the new store and come back soon for new holiday items." Visit their store to check them out!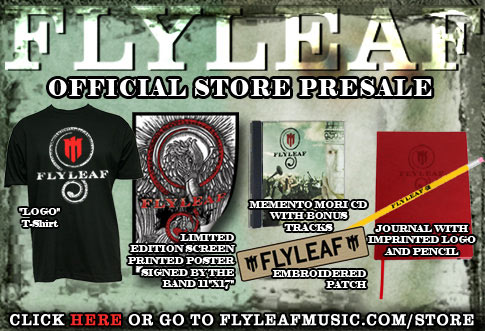 For more info on these artists, visit the JFH Artists Database.


[2021]
Jan. | Feb. | March | April | May | June | July | Aug. | Sept. | Oct. | Nov. | Dec.
[2020]
Jan. | Feb. | March | April | May | June | July | Aug. | Sept. | Oct. | Nov. | Dec.
[2001 - 2020]
Visit our complete MUSIC NEWS ARCHIVE