Dove Award Winning Artist Aaron Shust Signs With Premiere Indie Label Centricity Music
Shust's Debut Project On Centricity To Release Early Summer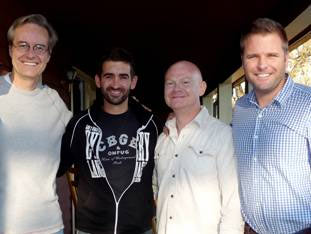 Photo ID (left to right): John Mays, Vice President, A&R, Centricity Music; Shust; Mitch White, Shust's manager, Moose Management; Conor Farley, Vice President of Publishing, Centricity Music
NEWS SOURCE: Bozeman Media
January 6, 2011
Nashville, TN (January 5, 2011) ----- Centricity Music announced today that five-time Dove Award winning artist, Aaron Shust, has signed with the label. Shust's first Centricity project is scheduled for an early summer release and he is currently writing new songs for the album. The first single is expected to ship to radio early this year.
"I am thrilled to be working with a family like Centricity Music.," says Shust. "Their commitment to spreading the good news of God's grace through their artists' music is refreshing, challenging and exciting."
"We are so honored to add such a talented singer/songwriter as Aaron to our roster," says Caren Seidle, General Manager, Centricity Music. "He is known for breaking molds and has been very successful with an individualistic approach to his music and ministry. We feel this signing will be a good match since Centricity Music supports the individual styles of each artist."
Besides writing songs for the new CD, Shust completed a 50 city tour with Big Daddy Weave on the Hope Restored, Fall 2010 Tour. Shust remained active on the tour scene last year by performing on the Summer Block Party with 33 Miles and a spring tour with new labelmates, Downhere.
Shust exploded onto the Christian music scene in 2005 with his first album, Anything Worth Saying, which led to the artist singing with Brash Records. The second single from the project, "My Savior, My God," started generating airplay on its own and rose to #19 on the Christian Radio & Records chart before being released to radio. Once released, it shot to #1 on six charts by April of 2006. At the GMA Awards in 2007, Shust was honored with three Dove Awards for Song of the Year ("My Savior, My God"), Songwriter of the Year, and New Artist of the Year. Shust's second studio album, Whispered And Shouted, released in June 2007 and in 2009, Shust released his third and final CD for Brash Records, Take Over. The project included the Christian radio hit, "To God Alone." At the 41st Annual Dove Awards this past spring, Shust won two awards; Veggie Tales Music: Here I Am To Worship (Children's Music Album) and Glory Revealed II: The Word Of God In Worship (Special Event Album).
In the past year, Shust and his family (wife, Sarah and two sons, Daniel and Nicky) have moved back to his hometown of Pittsburgh, Pennsylvania. He is currently the worship leader at the church where he grew up, Crestmont Alliance Church in Aliquippa, PA. Shust had originally left Pittsburgh to attend Toccoa Falls College in Georgia and eventually became the worship leader at Perimeter Church in Atlanta. It was during his time at Perimeter that Shust wrote his first album.
For more information on Aaron Shust please visit, www.aaronshust.com.
About Centricity Music
Centricity Music is an independent recording and publishing company based in Bellevue, Washington and Nashville, Tennessee. The company's mission is to enable our artists to create life-changing experiences for the world. Centricity Music's artist roster includes Jaime Jamgochian, Downhere, Jason Gray, Lanae' Hale, Andrew Peterson, High Valley, Matt Papa, Sixteen Cities and Me In Motion. For more information about Centricity Music visit online at www.centricitymusic.com.
###
For more info on Aaron Shust, visit the JFH Artists Database.


[2019]
Jan. | Feb. | March | April | May | June | July | Aug. | Sept. | Oct. | Nov. | Dec.
[2018]
Jan. | Feb. | March | April | May | June | July | Aug. | Sept. | Oct. | Nov. | Dec.
[2001 - 2017]
Visit our complete MUSIC NEWS ARCHIVE