NEWSBOYS HEADLINE WE BELIEVE TOUR THIS FALL
WITH SPECIAL GUESTS FAMILY FORCE 5 AND 7EVENTH TIME DOWN
Benefiting Feed the Children,
35-City Tour Runs September Through November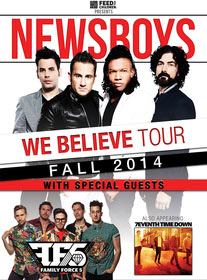 NEWS SOURCE: SouthSide Entertainment
August 28, 2014
NASHVILLE, Tenn. - August 28, 2014 - Four-time GRAMMY® nominees and current chart-toppers Newsboys announce their fall We Believe Tour, where they'll be joined by special guests Family Force 5 and 7eventh Time Down. This extensive tour will hit 35 markets, kicking off Sept. 18, in Germantown, Tenn., and wrapping up Nov. 16, in Youngstown, Ohio.
Known for their electrifying live shows, Newsboys are continuing to tour in support of their album RESTART, and will hit the road with all the excitement and energy that makes them one of Christian music's most successful touring acts. The tour is named for the Newsboys track "We Believe," which is currently No. 1 on the Billboard Christian Airplay chart, a position it has held for the entire summer. This success followed the band's appearance in the spring's hit motion picture GOD'S NOT DEAD, which showcased the Newsboys performing their hit song "God's Not Dead (Like A Lion)." The film's success catapulted the song (which also appeared on both the Newsboys' God's Not Dead album and God's Not Dead - The Motion Picture Soundtrack) to RIAA Gold status, with more than 219,000 tracks sold this year alone (nearly 635,000 to date).
As an exclusive treat for the ultimate Newsboys fans, most We Believe Tour dates will offer a "VIP Experience" add-on ticket option, giving fans an opportunity to get up close and personal at each show. This add-on package includes early entrance into the venue, an exclusive VIP laminate and tour poster/brochure, a copy of the RESTART CD and an exclusive Q&A session with the band followed by a meet & greet with a photo opportunity and autograph signing. The "VIP Experience" will be limited to 100 tickets in each market.
The We Believe Tour will benefit Feed the Children, one of the world's leading anti-hunger organizations which works in the United States and around the world to create a world where no child goes to bed hungry distributing more than $344 million worth of food, essentials, education supplies, and medicine to more than 10 million individuals last year alone. Through Feed the Children's child sponsorship program, Newsboys fans will be able to make a lasting differences in the lives of children right here in the United States.
NEWSBOYS - WE BELIEVE TOUR - Fall 2014

September
September 18 - Germantown, TN | Germantown Baptist Church
September 19 - Madison, TN | Cornerstone Church
September 21 - Sewell, NJ | Lambs Road Assembly
September 22 - Bloomsburg, PA | Bloomsburg Fair
September 26 - Joplin, MO | Victory Ministry & Sports Complex
September 27 - Fort Worth, TX | MacGorman Performing Arts Center
September 28 - Ralston, NE | Ralston Arena
September 29 - Tulsa, OK | Tulsa State Fair

October
October 3 - Corbin, KY | Corbin Arena
October 4 - Fayetteville, NC | Temple Baptist
October 8 - Shreveport, LA | Festival Plaza
October 11 - Steelville, MO | Meramec Music Theatre
October 12 - Sedalia, MO | Missouri State Fairgrounds
October 16 - Longview, TX | Belcher Center
October 17 - Cypress, TX | Berry Center
October 18 - Lucedale, MS | Lucedale City Park
October 19 - Alexandria, LA | Alexandria Riverfront Center
October 24 - Raleigh, NC | Dorton Arena
October 25 - Lima, OH | Veterans Memorial Civic Center
October 26 - Woodstock, VA | Central High School
October 30 - Abilene, TX| Abilene Civic Center
October 31 - Corpus Christi, TX| Concrete Street Amphitheater

November
November 1 - Carlsbad, NM | Walter Gerrels Performing Arts Center
November 2 - Andrews, TX | Andrews County Expo
November 4 - Quincy, IL | Oakley Lindsay Center
November 6 - Duluth, MN | DECC Arena
November 7 - Rockford, IL | First Free Church
November 8 - Muskegon, MI | Walker Arena
November 9 - Birch Run, MI | Birch Run Expo Center
November 13 - Morgantown, WV | Chestnut Ridge Church
November 14 - Bethlehem, PA | Stabler Arena
November 15 - Wise, VA | UVA-Wise Convocation Center
November 16 - Youngstown, OH | Stambaugh Auditorium
ABOUT NEWSBOYS
Four-time GRAMMY®-nominated band Newsboys boasts an impressive track record with 16 albums, five GOLD certifications, 31 No. 1 radio hits and more than 8 million units sold over their multi-decade career. This rock and pop-driven worship band includes front man Michael Tait (vocals) and his band mates who've played together for two decades - Jody Davis (guitar), Jeff Frankenstein (keys) and Duncan Phillips (drums). Their 2010 release, Born Again, the first with Tait at the helm, saw the largest street week of their careers, debuting at No. 4 on the Billboard 200 and garnering three No. 1 hits. Their 2012 record, God's Not Dead, has sold more than 400,000 copies, and its title song, "God's Not Dead," topped the CHR radio format for seven weeks in a row, culminating in a RIAA GOLD certification. Their most recent album, 2014's Restart has seen a continuation of success at radio, with "We Believe" reaching No. 1 on the NCA Monitored and AC Indicator charts. Renowned for their heart-pumping live concerts, the tight knit Newsboys unit continues to headline shows in the U.S. and around the world. For more information on the band, visit www.newsboys.com.
ABOUT 7EVENTH TIME DOWN
The Kentucky-based foursome has already garnered an enthusiastic army after their 2011 debut, Alive in You, on BEC Recordings. 7eventh Time Down is composed of Mikey Howard (vocals), Ciff Williams (bass), Eric Van Zant (guitar) and Austin Miller (drums). The band has toured with a long list of impressive artists, including Newsboys, for King & Country, KJ-52, Manafest, Fireflight and Stellar Kart, among others, and was recently a featured artist on Air 1's popular "Club Awesome Tour." Logging nearly 100 shows a year, the band members are true road warriors, carrying full production for their live shows since their earliest days together, handling everything from sound and lighting to stage set-up themselves. For more information, visit www.7eventhTimeDown.com.
ABOUT FEED THE CHILDREN
Feed the Children believes that they should create a world where no child goes to bed hungry. Just as important, they believe they can. Since 1979, Feed the Children has grown into one of the largest U.S. based charities. They are accredited by GuideStar Exchange and the BBB Wise giving Alliance and have a 4-star rating from Charity Navigator. By banding together to defeat hunger, Feed the Children distributed over $344 million in food, essentials, educational supplies, and medicine to over 10 million individuals in the United States and 18 other countries in fiscal year 2013. Visit www.feedthechildren.org for more information.
- ### -
For more info on Newsboys visit the JFH Artists Database.
For more info on Family Force 5 visit the JFH Artists Database.
For more info on 7eventh Time Down visit the JFH Artists Database.